LSAWARDSTRANNY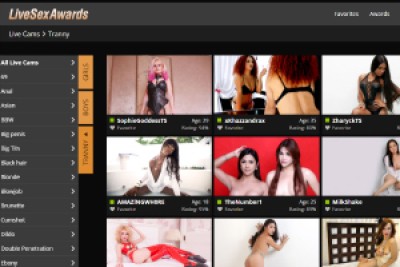 Overview
LSAwards is an awesome live cam site with a huge collection of all kinds of models and a great content library which won't leave you unsatisfied. Whether you'd like to see some sexy live shows, great amateur porn videos, sexy pictures or simply participate in a hot group chat, this site has it all.
Site Content
When you open the website, you'll be given a list of options to choose from. You can choose between live sex cam girls, boys and trannies, dating and non-nude cams and pay-per-view porn movies. There is a huge picture gallery with over 170,000 pictures of models and members as well. You'll also be able to use the advanced search tool to browse through the site, so it's quite easy to find just the right model for you. There is a great review section and you can vote for your favorite models and keep track of them, as well as browse through the Award section with the top 100 models, ranked by the members' votes.
You can enjoy high-quality camera-to-camera private chats with the hot online performers and you'll be able to adjust all kinds of video settings on their cams, such as brightness, hue and saturation etc. You'll be able to enjoy webcam streaming in three different sizes, based on your preference. There is also a "random member quickchat" feature to find a random member to chat with. Besides the members and the models, you can also chat with other people too. LSAwards has an extensive customer support and a great FAQ page. You can contact the customer support online via their live chat or you can simply send them an email. They'll be happy to help you resolve all of your issues and answer all of your questions.
Actresses & Video Quality
As stated previously, the number of the models on the site is truly impressive. Guys, girls, trannies, straight and gay couples, gays, lesbians, fetishists… You name it, they got it. If you're looking for some hot trannies, this site should be your first choice. There are dozens of them online at the same time and all kinds of them too: Euro, ebony, Asian, long hair, short hair, hot wigs, tattooed models, big boobs, small tits etc. You'll get some free previews for all of them, as well as a short bio. You can access them through the free chat first and then you can decide whether you'd like to take them into the private session.
Once you're in the private live cam chat with your favorite model, it's all up to you. You can ask them to do all sorts of hot and kinky stuff and they'll be happy to please you. LSAwards is available on a pay-per-view basis. You can choose from 4 different credit packages and you'll be charged by the minute, using a credits system. You'll be able to activate automatic "refill" to make sure you never run out of credit in the middle of the session. The group chat on the site is open 24/7 and it's completely free of charge.
In Few Words
LSAwards is a fantastic sex cam community with one of the largest collections of live camera shows on the internet. It features thousands of models from all over the world and all kinds of them, too. You'll find a bunch of different categories with the best sexy entertainment possible and if that's not enough for you, don't worry, you'll also have videos-on-demand and a great gallery of sexy pictures. With this much content, it will be hard to decide where to start and it will be even harder to stop.
Visit LSAwards Tranny >>