MARYSIATAKTAK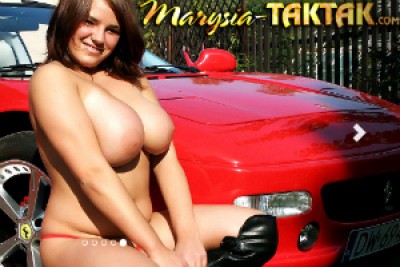 Overview
The MarysiaTaktak is a softcore porn site with the nude modeling and lesbian porn videos of the busty Polish girl Marysia Taktak. She is a hot, natural beauty, and though some of you would expect her to be humble, this girl is bad, and she likes sex pretty much. Marysia started out with nude modeling back in 2008, and though her first site wasn't such a big hit, this new, revamped portal has a strong company to back it up, and really hot content for you to enjoy. This website is currently powered by the UnlimitedAccessPass network, and it has some additional hot features for you. We have to give them that the guys behind this site really know what to do in order to turn us on. Marysia is hot and seductive on her own account, but when you consider the extras you get, the deal is so sweet that your teeth start to fall out just because you think of it.
The UnlimitedAccessPass is a big-ass network with 30+ sites, and more than 4,000 scenes (along with just as much photo galleries) featuring lots of European hotties, and some bits of the United States. This mixed collection of mostly softcore porn is yours to browse as you will, and in case you like to watch hot girls in sexually explicit, but not too crazy or hardcore videos, you are guaranteed to spend a lot of time here. We find it quite important to highlight the fact that this network is mostly about softcore action, which includes nude modeling, some striptease and masturbation, along with some lesbian sex. There are sites however with actual hardcore content, ranging from handjobs-blowjobs to vanilla hardcore sex, with only vaginal penetration. The videos of the MarysiaTaktak and of the whole network are unique, and about 95% of them were made for these sites, while some sets and flicks may come from the older (closed) sites of the models.
Site Content
The style of the site is fine, and it's quite enough to make us interested. There is a slideshow on the top of the page, showing some parts of this hot girl as she spreads her legs or plays with those luscious boobs. Lower on the page, you can see the site's content listed, there are thumbnails of videos and of the galleries alike. Now, there are no preview videos, but if you choose a photo set from the list, you can view a bit more thumbnails on its page, though you don't have the option to enlarge them. This tour is humble, but we're fine with it, we are not here for free porn after all. So, after the quick signup process we found ourselves welcomed by the usual, and quite hot template the UnlimitedAccessPass uses.
The main menu is on the top of the page, however before you start clicking like crazy you should pay attention because it's a network menu. The actual menu of the MarysiaTaktak is somewhat lower (it's under the banner) and it has four options: videos, photos, models and tags. It's easy to use, and there are some ways to filter and organize the content list. Now, let's take a look on the upper menu. That has several options listed, and it can take you to the other network sites (in fact, the banner and the listed content changes), but you can also select the tags from there. This is also the place where you can reach out for the included extras: the live cam shows.
When you open a video's page you have to make a choice: watch the video right in the browser and satisfy your lust as soon as you can, or you download the video and enjoy a slightly better quality, and you have the option to watch it again even your account expires? Hard question, but the choice is yours to make. We would say that you should give a try for the in-browser viewing, because it's pretty good, and the videos are not too long. But, another important thing you should do is to explore the photo galleries. Every video has a set, but they are not screen captions, they were shot before, during and after the actual video shooting, so they offer higher quality and extra insight. You can obtain them in zip files.
Actresses & Video Quality
The main star of this site is this hot Polish chick, Marysia Taktak. It's surely a made-up stage name, because the "tak" stands for "yes", so Marysia is a "yes-yes" girl. To tell you the truth, she really is. Marysia is not your usual porn star, because she is looking great, but she doesn't have fake boobs, and she isn't the skinny type. In fact, we would consider her as a BBW, from the less heavy category, because her boobs are huge, but she only has a bit of fullness about her appearance, she is not big, but beautiful. She shot some softcore lesbian videos with other hotties, mostly from Poland. Among her partners, you can find some skinnier chicks like Ines, who is a gorgeous blonde, with a wonderful body, and two amazing breast. In these videos, you can mostly watch Marysia showing her body, masturbating with her fingers or with a dildo, and she also makes some lesbian love.
In Few Words
Yes-yes, that's exactly what we expected from the MarysiaTaktak. A sexy girl who is a bit kinky due to her BBW-like nature, and some soft lesbian sex with pussy eating which just makes us turned on. This bit chubby Polish girl is seducing, and she has that cuteness about her which will make you ask for more. With the unlimited access pass to the whole network, this site is happily recommended.
Visit Marysia TakTak >>
---
Need to clear further doubts?
Have a look at some other MARYSIA TAKTAK tips on some other great porn review sites!
---