MEANMASSAGE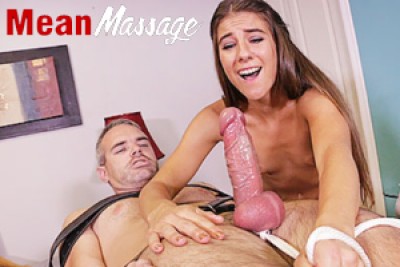 Overview
MeanMassage is femdom at its best. The massage table never got so sexy as this. If you enjoy a special massage that could include cum control, cock milking, cock teasing, and BDSM hand jobs this site is definitely going to appeal to you. MeanMassage is 100 percent high definition videos of pleasure for those that enjoy a sexy woman getting a rough grip on their cock. Watch hundreds of videos of beautiful sexy women providing special massages to lucky men strapped down to massage tables. This site delivers on exactly what you want it to.
Site Content
MeanMassage has some pretty great features that you can't find just anywhere. Clickable tabs at the top of the page provide you access to whatever part of the site you want to navigate to. Click the home button and hundreds of high definition videos are available for your viewing. Click the updates button and see the latest videos that have been uploaded to the site. Click the models tab and see a listing of all the models male and female on the site. If you know the name of a model you can look them up alphabetically or you can search through them looking for that one that catches your eye. Your MeanMassage membership includes all kinds of perks, this includes downloadable full length movies to keep instead of just streaming, a massive photo collection, over twelve hundred videos with over four hundred models, and eight more sites in the network that are included with your membership.
In addition to all this the MeanMassage network is accessible from a number devices not just your PC. Tablets, smartphones and PS3s also have the capability to access the sites. Everything on the MeanMassage network is easily accessible and user friendly. One of the best and rarest features is that there is a tab you can click on that allows you to send in requests for the videos that you want to see. If you have some fantasy that you want to see played out on the site this becomes a possibility for you. If your scene is approved you could see it in the members area of the website in two to three weeks after your request. This is a very nice feature that allows you the ultimate site customization.
Actresses & Video Quality
The girls on MeanMassage are professional cock handlers ready to please. There is a really nice feature on the site that allows you access to all the models names and pictures even including the male models. The girls vary, depending on what your taste is you can search through the girls and find what you are looking for. If you want a big breasted mature woman you might choose Sally D'Angelo. But if you are looking for a naughty nerd you might choose Alyssa Hart. Maybe it's a classy looking girl you want Briana Rogue might fit the description you're looking for.
With hundreds of choices and all different types of girls you can find whatever your pleasure is that day. The videos themselves are all HD top quality videos. They're well done and professional not amateur, high quality, well shot, well edited, and polished videos are what you can expect to find. There's absolutely no shortage of videos. There are over twelve-hundred of them on this site and that's not even mentioning all the photos you have access to as well. The girls are hot, the guys are hot, and the videos are virtually limitless.
In Few Words
MeanMassage is a site where your fantasies come true. Not only are there already over a thousand videos on the site but you can actually submit a request for the exact scene you want to see. If your scene is approved within a few short weeks you could actually see your personally requested video become a reality on the site. This is a feature that you come across very rarely and it is a very good feature. Otherwise the videos and models are top quality. The models come in all shapes and sizes. There are big tits for your enjoyment and shaven pussies to sink into. The male models are acknowledged as well.
The site is not stand alone when you subscribe you are getting access to eight more sub sites of content as well. It doesn't matter where you are or what internet connected device you have access to. This site is accessible from your PC or laptop, cell phone, tablet, and PS3. It's an extremely handy feature to know that any one of the devices you use daily can access the site immediately. With all the features that are available on this site it could easily be your go to place for quality entertainment. Not only will you be getting access to more than a thousand videos on MeanMassage but there are the sub sites as well. These sub sites offer you even more entertainment and a variety of it at that.
When you want something a little different than MeanMassage you can still get it without having to move away from this nice little bundle of networked sites. Be prepared to get fantasies fulfilled that you've been wanting to see for years or maybe find out that you have fantasies that you never even knew existed. Everything you'll see is top quality and geared towards your fantasies for the best experience there is to offer. MeanMassage is an ultimately naughty display of pure sexy pleasure that is worthy of a try.
Visit Mean Massage >>