MEGANSWEETS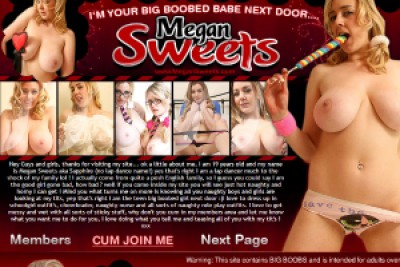 Overview
Megan Sweets combines sexual content with the life of Megan. If you were searching for a beautiful girl that you want to interact with and enjoy yourself as well this site can be the perfect choice for you. It has great content and you can jump straight to the action.
Site Content
Once you enter the website you will see the elements and the overall image that is being offered for you to a user. I really enjoyed the banners and the simple content that gives you some brief info about what you can find on it. The buttons and the menus are nicely done as well and you don't have any problems when it comes to navigation. Also, another cool aspect is the colours that have been used for the site. They combine very well with the entire atmosphere and they do attract you in the action.
Something interesting as well is the layout. They combined the elements of the site very nicely. Together they really make the entire experience a more pleasant one and you also don't waste time finding what you want are searching. The mobile version is nicely done as well. I tried it myself and I discovered that it is very similar to the computer one. Indeed it is a lot easier to use the mobile version because a lot of the options are reduced to simple clicks. But believe me, it doesn't matter which one you try, the experience will really be great.
Actresses & Video Quality
Megan Sweets doesn't have more girls featured it is focused on only an individual model that does her favourite fetishes and asks you to join the party. We are talking about a blonde, curvy girl with big tits that you want to simply feel and an ass that you will die for. She plays with a lot of toys and she really knows how to use them. So be prepared to really discover something new and fresh because Megan Sweets will surely make your world very tasty and you will get a turn on only by looking at her.
The videos of course are not filmed with a team or any professional equipment. Megan Sweets scenes are filmed with her own equipment and she does a good job. The quality of the videos is good and you can't complain of any problems when you are watching them. The videos do vary in length but the average of them is at about 5 minutes for each scene. The format used is WMV and if you want you can also download them to enjoy let's say maybe when you don't have an internet connection. The total number of the scenes is at 78 plus so you have quite a large number from where you can choose your favourite parts. Image galleries are also available and we are indeed taking about 78 plus of them as well.
In Few Words
Megan Sweets is a great place for you if you were trying to find a solo girl that likes to play dirty and knows how to offer exciting moments. She has the body and she can really be your turn on a girl when you need something to spice up your moments.
This site doesn't exist anymore, find more great solo content on our best solo porn sites collection.