MYCAMDIRECT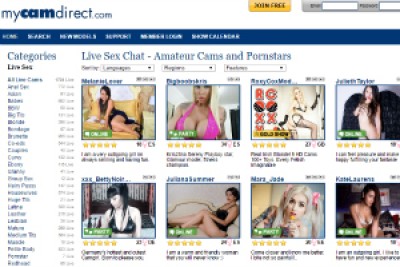 Overview
As the name suggests, MyCamDirect is a site that gives you access to unlimited live shows that give you the best erotic experience from all over the world. The site works in a simple way, allowing you to join for free and spending money on a selected chat room only where you get to see the models naked.
Site Content
When it comes to the presentation of content on MyCamDirect, you will be very impressed as you can easily identify the models you want even though the site has tons of models. The site allows you to log in easily from the tour area or to create a free account here within a few seconds to access the members' area. However, the members' area is very similar to the tour area and your experience on the tour area is all you need to be able to navigate around this site. From the top of this site, you will find a taskbar which includes an advanced search tool at the right end to enable you to search for the models that you want easily.
Actresses & Video Quality
MyCamDirect is a site that features all kind of girls from all over the world and hence as a member here, you can be able to access the model of your desired origin. This site also has male performers that are suitable for ladies and gay lovers to watch. This ensures that there is something for every individual who visits the site. The outline of how the site works is also very simple, since all you have to do is to register for a free account and purchase credits in order to access nude content. The site also allows you to chat with the models here for free, but without accessing any of the nude content.
This method, allows you to pay for only the content that you access in the members' area and you also get to choose the age of the models that you want to see. From my experience here, I can say that most of the models here are amateurs since the site appears only to provide a secure environment for members and models to interact. You will also get to rate the models here depending on your experience of a certain model. This helps you and other members to be able to recognize some of the non-responsive members who might waste your credit.
Nevertheless, most models are responsive and use HD cameras that enable you to view them clearly. This site also has some special girls, whose range from transgender to smokers and much more that you can't even imagine can be found here.
In Few Words
MyCamDirectis a site that I would advise anybody to join since it allows you to access content from models all over the world and, hence, you cannot get bored when you are here. This site also has no maintenance fee and hence you only pay for what you get here.
Visit My Cam Direct >>