MYNAUGHTYLATINMAID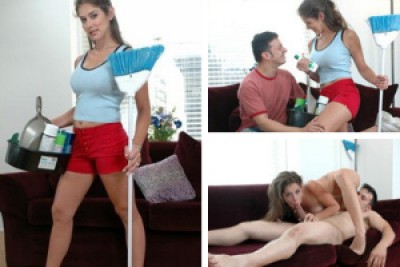 Overview
Many of us have thought of giving that sexy Latina maid the hardcore fucking she deserves. The days you spent watching from afar and not being able to indulge in your fantasies of bending her over and screwing her against your kitchen counters are now over with Naughty America's My Naughty Latin Maid! This website offers video after video of pure fantasy smut, all about getting down and dirty with beautiful Latina chicks that are willing to do more than clean your house for you. When before all you could do was watch these pretty ladies work around your home, now Naughty America lets you see them naked and spread out for your lustiest pleasures. My Naughty Latin Maid boasts hundreds of themed videos that hit your maid sex fantasies just right. Just by getting membership access, Naughty America opens its gates for you to watch all their hot maid sex videos, along with 45 other amazingly dirty porn sites that cater to all your other fantasies and fetishes. With access privileges to some of the naughtiest, sexiest porn you're ever going to see, you won't regret getting that membership to Naughty America's premium adult entertainment network!
Site Content
My Naughty Latin Maid has the standard site design you'll be able see in all Naughty America sub-sites. This means that everything is organized and easy to access for even the first time visitor. Going to the home page shows you their latest maid porn videos, with descriptions and tags to give you enough preview and help you pick something to watch. They even sort videos by location, giving your hot maid fantasies a whole new dimension by producing naughty videos in just about every possible part of your home. If you want to see more of their sexy maid videos, you'll find My Naughty Latin Maid's tagging system quite handy.
The home page itself shows video categories with tags such as shaved, lesbian, facial, and deepthroating, which conveniently directs you to specific videos to suit your current fancy. And if this is not enough, they've got a nifty Porn Finder page, equipped with Naughty America's Find Your Fantasy ® search filter that'll help you pick the right video for you. From here, you can sort videos according to category, pornstar, and location, effectively making sure that whatever you pick is a straight shot to your favorite porn fantasy! The more exacting viewers can also make use of their handy search bar, which leads you straight to videos that are tagged with any specific keyword you type in. As with any Naughty America subsite, My Naughty Latin Maid is jam packed with site features that'll keep you coming back for more.
Hundreds of fantasy maid videos are only icing on the cake, getting a membership to My Naughty Latin Maid allows you access to 45 other niche fantasy sites for your viewing pleasure, including famous sites such as My Sister's Hot Friend, I Have a Wife, and Naughty Office. Aside from this, you also get access to their Virtual Reality Porn page, which is worth the membership alone. Just by getting handy virtual reality devices such as Google Cardboard, Oculus Rift, Samsung Gear VR, and other compatible smartphone headsets, you'll be able to watch their EXCLUSIVE virtual reality adult videos, which gives a whole new spin to your sexy fantasies. My Naughty Latin Maid's videos are not only available for streaming and download at the desktop site. With membership access, you'll be able to bring your videos anywhere whether you have Android, iOS, or other mobile operating systems. You can even stream HD videos on your widescreen TV if you have Roku!
Actresses & Video Quality
My Naughty Latin Maid only has the prettiest, hottest Latina chicks for you to watch. From the beautiful Daisy Marie to the gorgeous Sofia Sandobar, you're bound to find a favorite or two among their model roster. All these ladies have large, bouncing tits, curvy bodies, and tight, pert asses for that are ready for some hardcore fucking. Whether you're in the mood for a fresh faced cutie or sultry Latina goddess, My Naughty Latin Maid's definitely got a girl to fulfill your wildest maid sex fantasies. Their videos are always uncensored and high definition, which is something you can expect from a premium porn network like Naughty America. It doesn't matter whether you watch their videos on your mobile or on huge HD TV screens, everything will be bursting with high, colorful pixels that enhance your viewing experience. Those pretty tits and perky asses are all the more enjoyable with the quality that Naughty America invests in their production value.
In Few Words
As a porn production network, Naughty America offers only the best fantasy videos you'll find on the internet. For those looking for top notch maid sex porn to suit their hottest fantasies, giving My Naughty Latin Maid a visit is a step in the right direction. With just one membership access, you'll be able to enjoy hundreds of hot maid porn videos, along with thousands of other fantasy fulfillment porn in different kinks and fetishes. And if that isn't enough, you also have exclusive access to Naughty America's specially-produced Virtual Reality porn content, letting you experience the future of adult entertainment on the World Wide Web! Get your membership access to My Naughty Latin Maid and 45 other exclusive sites under Naughty America's network, and enjoy regular weekly updates that'll keep you satisfied and top of your game! Maid porn has never been as hot as this!
Visit My Naughty Latin Maid >>