MYTEENOASIS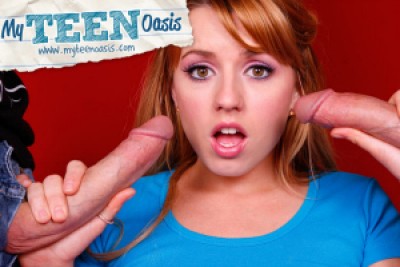 Overview
This oasis won't ease your thirst, but if you are thirsty for juicy butts, perky tits and wet pussies, then this is place you should settle at. The MyTeenOasis is dedicated to cute girls, who are doing hardcore porn, and they really like it. Here you will find a large selection of porn, and while you are browsing through this collection, you might notice that the videos here are all very hot, and utterly sexy. The MyTeenOasis promises you hardcore sex, cute girls and a pile of bonuses, so it's up to us to investigate whether you can get it here or not. This neat site launched in 2009, and it has been updating regularly, however nowadays it seems that less videos are coming than before. Never mind that though, the actual collection of more than 600 scenes will certainly keep you busy for a while. The scenes of the MyTeenOasis are usually 10-20 minutes long, and they feature full round action with warming-up and cumshot. The MyTeenOasis doesn't feature exclusive porn videos. The content comes from the Silverstone Studios, and they are all available on DVDs, and on the official site of the company too. However, here you can find the sites of this niche gathered together for your viewing enjoyment.
As far as extras concerned, there are a whole lot of goodies for you. The MyTeenOasis is part of the FameDigital network, and by joining it, you join the network too. The FameDigital itself is a reputable producer of hardcore porn, and you can enjoy this studio's hardcore videos, along with some other hot stuff. You will find among the included sites are few that doesn't update anymore, but the biggest, hottest sites all receive new content on a regular basis. You will see that the bonus sites are the one of the main elements of attraction of the MyTeenOasis, because they cover all kinds of niches: trannies, reality porn, monstercocks, interracial sex, gangbang, and there are even lots of fantasy-driven videos. The content of the MyTeenOasis is semi-pro, but if you want actual professional hardcore, check the bonuses, because Peter North, Silvia Saint and Rocco Siffredi are producing real hard and real good porn for you. Apart from the quite hot extra sites, you gain access to third party bonuses too, like a store and live cams.
Site Content
The MyTeenOasis is a FameDigital network site, which means it uses the same template as all others. This built is created by the Gamma Entertainment, and it's nicely customized and easy to navigate. The home page of MyTeenOasis is bright, friendly and really sexy. During the free tour, you can open the network updates' list, the models' list and you can take a look on the video collection. While you are taking the tour, you can watch free previews of the MyTeenOasis videos, and on the network page, you can peek into the bonus sites' content too. This means a huge pile of information for you, and it's more than enough to make a porn-fan interested in becoming a member of this site. So, let's join and head in.
Fortunately, the members' area is nearly the same as the tour. The menu is under the banner, and apart from MyTeenOasis content, you can go the live sex portal and to the store. There is also an option called 'DVDs', which features the site's scene, sorted by the DVD titles. In case you want to jump to a network site, you just have to pick one from the dropdown on the top. There you can also find the account-menu, where you may view your favorites, change language, contact the support and view your account information. Search engine is not implemented, but don't despair: there is a categories selection tool on the left of the page, you can even see how many scenes feature that category. Also, there is list of the most viewed DVDs, which grants you an insight about what the members like.
Actresses & Video Quality
The models of the MyTeenOasis are looking gorgeous. They are certainly over 20, but their perky tits, fresh face and tight body makes them look much fresher. It seems that the collection is mixed bunch of US and European porn, at least that's what we think, because some girls and guys appear in Russian porn videos too. There are mostly Caucasians chicks getting fucked, but we have to give them that they are quite hot and eager. This isn't exactly studio-made porn. There are videos which feature plain hardcore sex, featuring a horny couple. In other cases, the sex is the conclusion of something, like teasing the worker who repairs the house, or showing nice curves during some exercise in the morning. You will see that the girls of MyTeenOasis are really eager, and they handle every size pretty easily. As you might expect from such beauties, the girls of the MyTeenOasis are doing a really fine job, and they are always open for a long blowjobs, and they can't resist getting their butthole fucked hard. Apart from the anal sex however, there aren't many heavy niches covered.
In Few Words
The MyTeenOasis will certainly help you get in the mood, and in case you are looking for hardcore sex, you should try this site. When it's about fresh pussy, the folks who made these videos know no joke, and they take it seriously: only natural, pink and wet pussies are featured, and it's only a fine bonus, that the girls are gorgeous. With the mixed styles of PoV, gonzo and distant recording, the videos are not feeling all the same, and you don't have to go far for variety either: the network sites are offering you really much.
Visit MyTeenOasis >>
---
Need to clear further doubts?
Have a look at some other MYTEENOASIS tips on some other great porn review sites!
---