NAKEDFRATHOUSE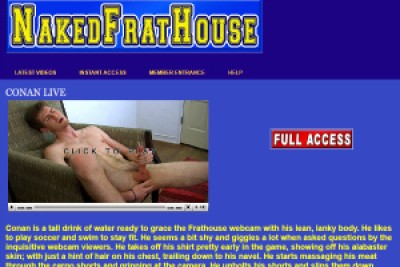 Overview
Do you like porn? Well, of course, you do, a lot of people do, and they are not afraid to explore the internet in hopes of finding a good site. Some people have luck and they find good sites, immediately, while others, they have problems, but luckily, there is a good site that you will certainly want to see, especially if you are a fan of guys, and gay guys, too. The site is called Naked Frat House, and you can find many a hot guy there, masturbating, or having some gay sex, hardcore sex, of course. The site also has some surprises for its visitors, and its members, too.
Site Content
After I have seen the site's home page for the first time, I was astounded, as you get to enjoy and see a lot of stuff, starting from the site's design, which is great, by all means. That means that you will not only get to enjoy a good and optimised design but also, a site that tends to arouse you even before you actually open the full feature stuff. The nice blue background does well to enhance the content, that is, you will not be distracted by an unnecessary material. What is more, you will be able to find a lot of previews right there, on the home page, past the menu buttons. You have the essentials, the joining button, and the one that leads you to the members' area if you are already a member.
Actors & Video Quality
The guys on this site are amazing, but not just because they look so good, and trust me, they do look very good. The guys are hot, some of them really muscular, so you will have a variety of them to choose from. Some have hot abs, some are just yummy, and you could eat them all up, while others prefer being solo, doing the stuff that they love in front of a camera, that is, masturbating for you, that is, after stripping. Some guys love doing it hardcore, so be ready to see them fuck one another, that is, get down to some kinky stuff, that usually ends up in a nice and explosive orgasm, whether the cum ends up on the face, or on the butt or stomach, that is up to you to choose.
The videos on the site, too, are amazing, as you will get to see quite a quality, and enjoy it to the point where all the details will be clear, and the content will be more than likeable. You can download the videos, all 124 of them, in the MOV and WMV formats. You can also download the photos, too, and in the ZIP format, all 3000 and more of them.
In Few Words
Even though you have a lot of content here, and it is regularly updated, you still cannot but want for more, and for a good reason, too, since this site has a lot of hot guys, guys that will arouse you in a second, or even sooner, given how hot they are. You will enjoy Naked Frat House, and all of its content, especially if you are into gay and hardcore scenes, even though there are some softcore ones, too.
This site doesn't exist anymore, check out our best gay porn sites list for similar content.