NIPACTIVITY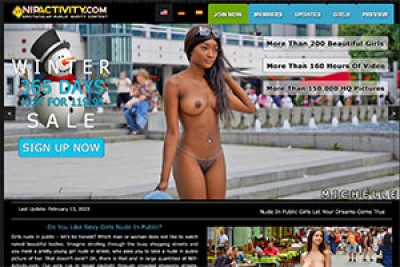 Overview
If you have a fetish of viewing attractive women in their skin right in the public glare, you have an opportunity to enjoy many views of such occurrences on Nipactivity.com. This is one of your few real public nudity sites that throw in some extras for you to savor and see your inherent sexual desires come true in the real world.
Site Content
The site has made a great effort to appeal to visitors. I love the way they present the outline of their content immediately you land on their first page. There are several animated captions of the models doing their rounds in public places. You are provided with a search tool that is tied to Google Maps to trace the movements of your favorite model in her nude escapades and public titillations. Some critics find navigation around the site a little jerky, but I think it would be fair to judge the presentation of this site on its own merit. I could browse several scenes and switch between the models with much ease. I was also able to stream the videos and view photos via my mobile device. The loading speed is remarkable. I was happy to savor a rich tour of the site with a few short video previews of the girls. Each of the girls is indexed so that viewers can access their performances from the thumbnails provided on the menu page. The site provides members with several extras to savor once you register for membership. I was also impressed that they make a lot of effort to provide customer support, including phone access.
Actresses & Video Quality
If the girls on this site won't titillate you, then I don't know whether you ever get aroused. It is simply impossible to keep your calm with the striking performances provided by the models on this site. This is your real public nudity platform that features gorgeous women taking a walk while totally nude. I got to take 3D views of several models who keep replaying in my mind. At first, I stumbled upon the seductive Angelica. Like her name, she comes with amazing beauty. Her long flowing dark hair and a curvaceous body are the ultimate definition of beauty. She is tall and inviting. I loved her stylishly shaved pussy that she flicks on as she walks. The mound is tightly tucked between her legs but is often displayed sparingly to the direct view of cameras at irregular intervals as she walks around. Aiko is the water-spot girl who plays around by the beach as she displays her attractive endowments. She is also an exceptional piece of creation. Aiko has a calm demeanor and provides fellow beach goers with some extra entertainment that comes spontaneously to the lucky ones that happen to cross her path. There are 420 videos with 19-minute playback time and a similar number of galleries with 100 pics in each. All content can be downloaded to a zip file.
In Few Words
If you wish to savor the goodness of real public nudity, Nipactivity.com is a great place to start. You are provided with a tracking tool to identify the places your favorite model is taking a tour of. Therefore, this is a site that, not only provides nude entertainment scenes, but offers you a chance to get up close and physical with the models. Their content is all in high res and HD. Most of the pubic nude sites available online do not get real public. They constitute a couple of models doing their thing in controlled and restricted location. Nipactivity.com, on the other hand, provides you with girls doing walks in real public places that you can identify with. There are many scenes in which girls do their walks on real public streets with plenty of traffic. The models cause a stir but they seem to enjoy their time in the limelight.
Visit NIP-Activity >>