NIPPONHD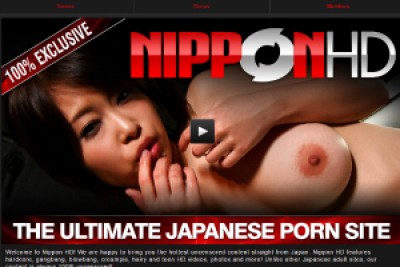 Overview
For many years, porn lovers have kept away from Asian porn due to the fact that most of the porn videos were censored. In the past, you could not watch an Asian porn video without ending up with tired eyes due to the pixels that are used to block certain parts of the videos. While that may all be in the past now, porn lovers still have that image of censored videos embedded in their minds. As such it may be hard to convince someone who had watch one of those censored videos to watch Asian porn again as they have it in mind that it is just another way to develop nerves problems. No matter what your opinion of Asian porn may be, times have changed and today there are websites that carry uncensored content. One of such web sites is a relatively new one called nipponhd.
Nipponhd brings to its users porn straight out of Japan with some of the hottest Japanese stars featuring. The site is very flashy and makes use of a lot of high-resolution images. Even the videos are all high definition. Nipponhd knows very well that people hate the videos with censored content so they are bringing to you content that is not only high quality but uncensored. You don't have to bother again about getting nerves problems from tired eyes. There is really nothing to tire your eyes this time around. Instead, you may instead suffer from over entertainment as the models bring out their best skills to make you as hard as a rock. As the fresh hotties spread their legs and show you their pussies, your hand will be diving into your pants to bring out your cock.
You are going to be finding some of your hottest fantasies brought to live on this site. The site seems to cover a lot of niches from gang bangs to blow bangs and even solo action. The girls are crazy and horny and the guys can't get their dicks to stay down. The girls seem always ready for a good fuck and whether it is in the office or at the institute, they are ready to give it to the guys anyway they like it. If you have been watching Japanese porn before, you know that something common with the girls is that they can scream and moan. You will be getting a lot of these here but only everything you get will sound so real you will be tempted to think it is a homemade video between lovers.
As you browse the site, you will find picture thumbnails but no trailers. The best you are going to get is a preview video that is found at the top of the home page. You may not find any other preview on the site apart from the one that is found at the top of the homepage in the left-hand corner. This preview which is available to visitors and members alike features a series of short episodes taken from the different scenes on the site. In this video, you are going to be presented with short clips of some of the scenes that you will be enjoying once you become a member. The scenes are hot and nasty and will leave you hard and ready to explode. You will get a better view when you follow the registration process to become a member.
Site Content
The website is one thing that is going to get any visitor to go past the first page. It is simply flashy and super elegant. You just have to give it to the site owners for the work they did on the design. They make use of very high-resolution pictures that are so clear they give the impression that you are actually looking at the pictures physically.
When it comes to browsing, the site has just the necessary tools to help a visitor or member go around. The main tabs include the scenes tab and the bonus sites tab. On the homepage, the content area is filled with thumbnails of pictures from the different scenes. These actually act as links to the full video page. As you scroll down the site, you realized they use the famous block structure on the site. This structure allows pictures to be loaded progressively as you scroll down the site.
Actresses & Video Quality
The models on this site are hot as they are crazy. They are bitches and love to be treated as one. They are beautiful and glamorous and you will be taken by the way they look all elegant in the videos in their expensive clothes before the clothes start flying all over the place as they get into the porn session proper. These ladies are Japanese and they love to experiment with different hair color. As such you should not be surprised to find them with blonde and red hair. Also, just like with most Japanese girls, these girls keep neatly trimmed hairy bushes. The models on the site include professionals and real amateurs. Nevertheless, they all look gorgeous and put on a good show in the different scenes.
In Few Words
Finally, you have a Japanese site that has uncensored content and gives all its videos in high definition. The content on this site is very exclusive to the site so you are sure it is not some cheap content that is found all over the internet. As you join the site, you get access to full-length videos and you can choose to stream or download videos.
Visit Nippon HD >>
---
Need to clear further doubts?
Have a look at some other NIPPON HD tips on some other great porn review sites!
---