OCREAMPIES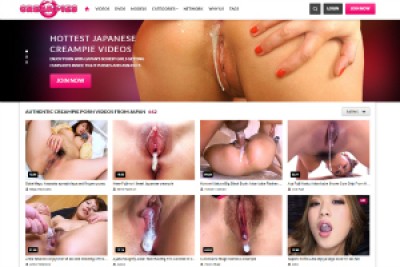 Overview
Ocreampies is the best creampie porn site and is your one stop for uncensored Japanese porn. The site's creampie hardcore videos have all of your favorite Asian models. It is a portal worth the sign up because it gets you off in the best possible way. If you have never watched Asians in action then you will develop a newer found love for them as they make their debut on Ocreampies. They have a way of captivating you and giving you the fulfillment that you could never really get anywhere else.

Site Content
As a platform that has been in existence since 2008, you will be able to enjoy the site's tour that is filled with archives and a lot of exciting content to boot. The tour does not make empty promises. It ensures that it makes good on all of the entertainment that it guarantees you. The members' area is the one part of the adult portal that you will certainly enjoy. It gives access to the collection on the site and bonus content that you will equally enjoy. The bonus sites offer a diversity of action, therefore, you can explore what the network has to offer. Creampies are not the only thing that you will get. There is plenty of adult action that covers different niches.
In total, the site has 1086+ videos and many interesting screencaps. Although there are no galleries here, do not fret, you will still be able to get a kick out of the flicks. They can be streamed in three top-notch qualities including 2080kbps and downloaded in MP4 formats. The Flash streams also have filmstrips at the bottom that will let you jump to any specific spot on the scene. As such, you do not have to spend too much time getting around. You will certainly enjoy all that the portal has in store for you.
Sound and the viewership quality are pretty decent and this makes your time here one that will delight you in every single way. Ocreampies does not present the content in HD but still, you will not have any complaints to make about the presentation. There aren't any download limits. Thus, the collection is yours to explore. There are no restrictions as to how much content you can enjoy in a single day.
The action is uncensored, therefore, you can be able to enjoy the flicks without any restrictions. I don't know about you but for me, this takes entertainment to the next level. After all, it is very hard to find a Japanese adult site that does not blur out all of the models' genitals. On Ocreampies, nothing is left to the imagination. Members of the site can enjoy extras such as 3rd party feeds that treat them to much more content. The layout is amazing and makes your tour on their portal a highly memorable experience.
Actresses & Video Quality
As a breathtaking adult site, Ocreampies will definitely thrill you with the sexiest amateur models that you have ever seen. The sight of them is truly mouth-watering and all that you will be focused upon is their pink pussies that are oozing with cum. They're ready to satisfy all of your strange cravings and the best thing about it is that they will leave you duly satisfied. The models are all of a Japanese descent and love nothing more than getting fucked. The action will not disappoint because the models are committed to giving you dozens of orgasms. They are really talented at what they are doing. Although these girls are amateurs, they certainly have bright features in the adult world.
As the videos are censorship-free, you will be able to angle the models' genitals without any restriction. The sexiness will not be able to contain yourself in the presence of such tantalizing action. Everything that will be going down on your screen is certainly boner-inspiring. The devotion of all the models is indeed inspiring and they make signing up to the platform something that you would really want to do. These Asian girls are really hard to resist. Their pussies are full of fresh cum and as this is what Ocreampies promises, it highly delivers.
If you do not mind getting messy then you will find delight here at all times. Once the girls have their lovers' pleasure all over them, then they feel a deep sense of satisfaction. Their nubile pussies are bursting with satisfaction. The Asian girls are enjoying all sorts of sexy situations and this is the best thing about them. Starring in the videos are models like Ai Himeno, Aira Takarana, Ayake, Aya Fujili among others. These girls are sexual explorers who take the time to find all the ways they can to really delight you. Some of them prefer group fucking to one on one action. As these are Asian girls, you would not expect a shortage of one or two bukkake scenes. The hot girls are at the higher end of the spectrum when it comes to giving you pleasure.
In Few Words
Ocreampies boasts of presenting its collection in a sexy, simplistic and pleasing way. The content is decent and enough to give fulfillment to multiple porn lovers. The combination of beautiful Japanese girls and creampies will ensure that you have every reason to sign up to the pleasure portal. The models give it their best and as they do, will not leave any stone unturned. There are also a great number of sub-sites that will give you utmost pleasure in addition to what you already get on Ocreampies!
Visit Ocreampies >>
---
Need to clear further doubts?
Have a look at some other OCREAMPIES tips on some other great porn review sites!
---