OFFICIALANNDENISE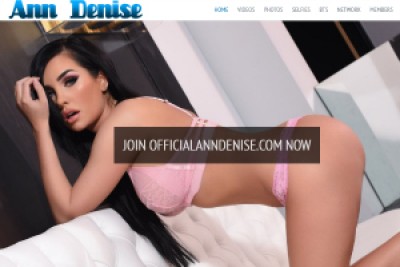 Overview
Hey guys! Have you ever heard of the term "glamour girl?" If you haven't, then here is the definition: it is when a girl is living her life and dressing up in a "glamourous" fashion by today's standards. That means that these glamour girls are the most chic out of all of the girls out there. You'll truly know if that girl has the glam when you see them. It will hit you out of nowhere, like, wham! And what can you say when one of these glamour girls actually engage in things that men like? Say for example, erotic stuff?
Like really, if one of these glamour girls actually have what it takes to go out there and make us erect with her erotic stuff, then this girl will have so much money in her hands, because people will be lining up for her pics. And what if I tell you that that is actually the case? Yes, there is a glamour girl up there that actually has a site that shows you softcore porn to members! Presenting OfficialAnnDenise! Ann Denise is a top UK glamour girl who actually has really erotic photos, really enticing the people out there towards her.
Site Content
In the site itself though, you can see that there are so many photos that will show you just how beautiful and how tempting Ann Denise can be! And that's just a few of her photos! You get to see even more when you become a member of OfficialAnnDenise! The site itself is neat and tidy and all, and it's rather organized. To start things off, you get to see the Ann Denise logo on the topmost left part of the page. Then you get to see the tabs, on the opposite side, to the right. You get to see 8 tabs that will really help you with the navigation of the page.
So, the first tab to be seen is the Home tab, which is pretty much where you are when you open up the page. You get to see here some of the best shots that OfficialAnnDenise has to offer, and they're really good. Basically what you get to see here is a preview of what the site is all about. You get to see the bombshell pics of Ann Denise, you get to see a bit of an introduction about the site and who Ann Denise is (it'll only be touched on, not really extensive), and that's mostly about it.
In the next tab, which is the videos tab, you get to see some of the sexiest videos out there. She's barely touching her pussy, it's only softcore porn, she's not getting fucked or anything, but damn will it make the tip of your dick real wet. It will make your dick erect just like you just watched hardcore porn. You get to see strip teases from Ann Denise, and boy, will it make you go nuts just by looking at it!
The third tab is for the Photos tab. Don't get confused, the photos tab is for the photos that the camera people shot. They're really well angled, really well lighted, the backgrounds have been carefully chosen, they're really doing the best they could to bring out the best of Ann Denise in her photos! They really make her shine here. Of course though, though the photographers bring out the best out of her, they still can't get the candid element that is found in the selfies! That's why the selfies coming from Ann Denise herself deserve another tab, and that is the Selfies tab!
You get to see here all the selfies that Ann Denise took whenever she's in a set! It's really cool if you think about it, it adds a more personal touch to the site. It gets even better, as we get to know Ann Denise when she's out of the set, with the BTS (behind the scenes, for those who don't know) section of the page! You really get to see the outstanding stuff out here, and you get to see an even more candid Ann Denise. Really good stuff. Of course you can't be a member if there's nowhere to go to be a member right? That's why you gotta have a tab that enables you to join. It's indicated by the "Join Now" tab. You can access the members page with the Member's tab. Also, if you want to check out the network that manages OfficialAnnDenise, you should check out the Network tab. You'll find interesting stuff out there.
Actresses & Video Quality
Ann Denise is her name, and softcore porn is her game. In OfficialAnnDenise, you get to look at one of the most beautiful girls in one of her most beautiful forms, and that is when she's in "erotic mode." You get to see her simply tease the fuck out of the watchers/viewers/whatever you want to call people that look at her photos and videos. You get to look at the HD pictures of her in here, and you also get to see some strip tease videos that you can look at, also all in HD.
In Few Words
To cap it all up, OfficialAnnDenise is a site that features Ann Denise herself. She basically co-owns the site and she is posting pictures of her. She's one of the best glamour girls in UK and she's here to show us a real treat with her really bombshell photos and really erotic softcore porn videos. And she even made it a point to have a personal touch to the site itself, showing us more about her when she's already outside the photoshoot session. She really shows us some very interesting things, and it's a breath of cool, fresh air to the porn scene. To the people who are quite stressed but not stressed enough to enjoy a dick-raising experience, then OfficialAnnDenise is your best bet for a site that will show you quality softcore porn. Watch the site, and let Ann Denise do the rest for you.
This site does not exist anymore, have a look at our best European porn sites selection.