ONLYALLSITES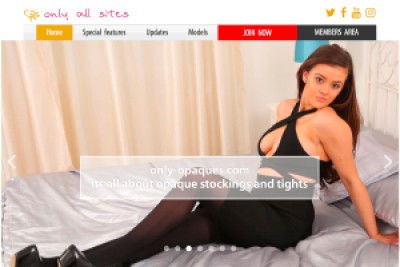 Overview
OnlyAllSites' tagline is that they specialize in the erotic and not the edgy, to paraphrase. To be clear, they photograph beautiful women in sexy clothes, flirtatious poses, and immaculate locations; they don't do pussy, or any other kind of porn, pictures or movies, which is a pleasant old-fashioned change from every other male fantasy site on the web. I find it rather refreshing and so might you if you're becoming tired of all the gaping holes that bombard you when you search the web for beautiful women. The network of Only sites has hundreds of wonderfully wicked women who are sexy and yet still ladies. The Only sites' network has six of the best erotic sites on the Internet today, with professionally shot photos and videos in SD and HD. If you're looking for top-notch photography of beautiful women wearing classy clothes and in elegant locations, truly art- quality images, then you need to check out Only All Sites and the other Only sites.
Site Content
With the network's multiple updates per day, there's someone or something new to see and enjoy all day long and all year long, even a present on Christmas morning. While the ladies of Only All Sites are all Euro girls, there's still plenty of varieties to admire and all from the comfort of your place. Some are longa legged elegant creatures with pert figures while others are more womanly, full rounded hips and busts with narrow wasp waists. I said this site was also about costumes, and it is, but some of the women are prepared to display their breasts for the camera and you, their devoted admirer. Someone said 'manners maketh man', and they were right, but it's clothes that maketh the woman. The costumes of OnlyAllSites are to them what nakedness is to their less imaginative sisters. The ladies shimmer in scintillating sheaths of silk and satin, where every curve is flattered and flaunted, or they are all efficient energy in severely cut business suits that accept no nonsense from anyone but hint discreetly at the pleasures that lie underneath. Occasionally, the ladies like to be playful and girlish in sexy classroom uniforms or the matronly, modest outfit of the classroom's teacher. Ladies today are often in uniform and so are the ladies at OnlyAllSites. If you love a woman in uniform, be it Army, Navy, or Police, you'll find one here that fits the bill. Neither girls nor ladies wear stockings much these days, sadly. Even pantyhose has practically disappeared and leggings have taken their place. However, the ladies of OnlyAllSites still enjoy being a girl and they still cling to their stockings, seamed or plain, with pretty garter or suspender belts. Of course, a lady can't always be wearing stockings, when she's in class, for example, she needs nice knee socks, or with a short skirt she needs pantyhose, anything else wouldn't look lady-like, would it? Ladies love their nightclothes too, whether it's a sexy almost see-through teddy or warm practical pajamas, you'll find nightwear you like as much as they do. Whatever they're wearing, if you love Adult mature ladies, you'll love OnlyAllSites.
Actresses & Video Quality
3Only network has six sites showing exclusive photos and movies of beautiful women in fine clothes, sheer lingerie and teasing poses, these are not porn sites! With over 2.4 million exclusive photos available in 1k, 2k, or 3k pixels, 5,400 exclusive WMV and MP4 videos (in SD, HD and streaming Flash) all being added to 1 to 3 times every day, you'll always find a new exclusive photo-shoot to appreciate. The Only Network's sites are: Only Tease, where the girls tease you the viewer with flirty poses and costumes, Only Opaque's, which has the girls modeling pantyhose or lingerie that almost, but not quite, gives you a glimpse of heaven, Only Secretaries, which needs no explanation, Only Silk and Satin where the ladies model the sheerest lingerie, and two sites featuring popular Only models, Only Melanie, and Only Carla. You can follow them all on Twitter and Facebook.
In Few Words
Only All Sites is a member of ASACP, which supports effective filtering of adult sites. Also, Only All Sites gathers and keeps proof their models are adults in conformance with U.S.C. 2257 Record Keeping Requirements Compliance Statement. Finally, to ensure you are protected, they prevent the information you provide when signing up from falling into the wrong hands. See the Privacy Policy on the site for details. Only All Sites has three membership time frames, one, two and three months. The one-month subscription is just under $50. If you take the 2-month membership, it's just less than $80. Signing up for the 3-month membership is just under $110, which like the one and two month subscriptions, gets you in to watch all the network's sites glamorous models in super sharp images and SD and HD videos. The Only Sites network also has live cams, podcasts and a forum for members to talk to the models and other members. OnlyAllSites has some choices for joining and paying for your membership. You can sign up online or by good old-fashioned mail service, and payment can be made either by credit card (Visa, MasterCard, Discover, Diners Club, JCR, and Maestro), debit card, cash or PayPal on the one and two-month memberships. For the three-month subscription you can add UKash to the payment options. With all these ways to pay, and gorgeously erotic material like they have, why not give it a try right now?
Visit Only All Sites >>