PEEPINGSANTA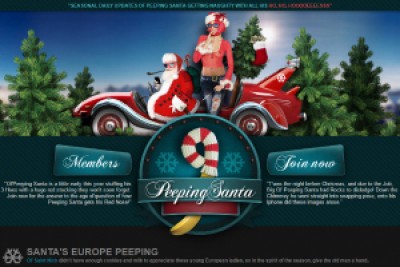 Overview
We have all imagined what is Santa does when entering our homes. Now we have a chance to see what he really does. Here on PeepingSanta he is imagined as a peeping Tom, instead of just the old white bearded guy bringing gifts. Well, this Santa sure brings gifts to the fans of voyeurism! I loved the way everything was filmed and categorized, it is a really unique way to do things. Even with the absence of that jolly, generous old man, you still might feel like it's a holiday since you're getting the gift of a large amount of video material.
Site Content
The design of Peeping Santa is joyful like the Christmas season. The homepage has green colored background with a naughty peeping Santa in a car with iPhone in one hand. The same phone used for filming the sex scenes. The page has an essential and useful menu that is unnoticeable, because of those succulent morsels of models that look at you from the screen captures. Once you decide where to look for your heart's desire, it gets easier, but not for long after I tell you that there are around 3.000 movies in the archives and 9.500 sets of pictures. Quite impressive and overwhelming at first.
So it is better if you know your preferences and search for them. Most of the content is not on point with the expected Christmas theme, but it is always a peep show sensation you will get watching the movies. The videos though are mostly full HD and there is the possibility to download and watch in streaming on your mobile device as well. The membership will bring you 100% free additional access to 10 more sites. It is worth a monthly subscription. All transactions are safe and secure. It will not be written anything about an adult site on your credit card statement.
Actresses & Video Quality
The girls on PeepingSanta are cute, lovely and horny chicks ready for satisfying every sensual dream you may have. They love to suck on large cocks, lick some pussies and have their buttholes drilled hard. The facials and cream pies are frequent and if you love diversity, this is the right place to be. I loved the way this site has divided Santa's peeping visits among the continents. It is like having porn categories. So, you have Europeans, Asians and North and South Americans. I loved the black continent chicks, they are my favorite naughty, passionate and intense girls. There are also few videos with models dressed like Santa's helpers. The cock hungry chicks who do stick to the Christmas premise, use vibrators, stripping, and lesbian sex.
In Few Words
Santa is a peeping Tom on PeepingSanta site. It is a mega fabulous porn site with around 3.000 movies and even more photos available for the lucky member. The action is hot and hardcore with interracial copulation, anal intercourse, lesbian pussy licking, deep hardcore BJs and so many more sex acts that it is impossible to number them all. Join the group of voyeurs and enter the world seen with the eyes of invisible, but ever-present peeping Santa.
This site doesn't accept new members, have a look at our good fetish porn sites selection!