PENTHOUSE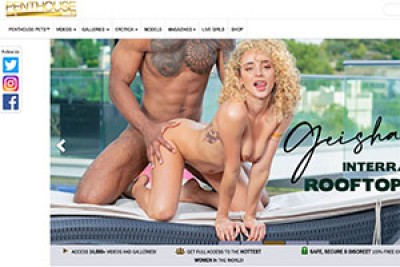 Overview
Penthouse may perhaps be one of the most famous names in the world of porn. It belongs to the upper echelon part of the porn world. Needless to say, it is one name that guarantees you lust, fun and everything in between. As a site with a great reputation, Penthouse has always promised us the best of quality and quantity alike. Initially established as an adult magazine that has featured some of the biggest names in years, the transition to film is most definitely something that is truly appreciated. Most porn lovers are excited for the opportunity to find out what the site truly has in store for them.
You no longer need to spend unending hours going through the pages of a magazine. If anything, you only have to worry about your cum-covered mouse. The excitement that will engulf you as you go through the page to page is enough to ensure that you masturbate along with each and every scene. Penthouse lets its kind of porn action to speak of itself and the things that it has to say have you listening intensely.
Site Content
The luxurious Penthouse name already lets you know that your tour on the site will be epic and unforgettable. You will be greeted with so many enticing things that will make you feel as though you can denounce all that you hold sacred and pledge your allegiance to this platform and all that it has to offer. First off, we cannot move on without pointing out that all of the models look great. They are seductive in their own ways and in each scene, they are able to show you that you made the right decision signing up to Penthouse.
For such a big site, you would not expect anything less than hundreds upon hundreds of flicks and this is exactly what you will get. There are 1000+ videos and thousands of galleries as well. One thing is for sure, you will be pleasured to your contentment. You may expect to have a hard time getting around but the site will shock you, proving that its interface can be maneuvered by even those who are new on the portal.
Sorting and searching can be done by date, popularity or even the models, depending on what you have in mind. The content is evenly spread out through categories such as anal, threesomes and many more. This also shows that Penthouse is a premium porn site for any and every porn lover regardless of their preferences. The scenes are truly steamy and will ensure you get your true membership worth. As expected, downloads are available in a variety of formats including MPEG, MPEG4, WMV and HD, with the site also being able to support mobile viewing. The videos also offer great streaming options that will delight you in the action all the same.
Actresses & Video Quality
The Penthouse model roster holds as many personalities as they do sex positions. Spending even a tad bit of time watching the stars in action may be exactly what you need to turn your sex life around. They are going to do things that will make your privates tingle as well as put a big smile on your face. They show off their huge nipples capping their jiggling boobs and their shaved pussies, depending on what they like, as well as straight, gay and lesbian action. So it is up to you to pick where you can confidently get started.
Just coming face to face with the talent will drive you crazy and you will fall in love with them. It is evident that the porn stars have been in practice for a very long time and it is exactly why they exude such confidence in front of the camera. As kinky as they get, they still manage to display utter elegance and loveliness. Leave it to them to be in the driver's seat and take you straight to fantasyland.
These women are admired for their curves and sexy moves. Some of them have a way of flaunting their long sexy legs and tight asses while others take the more subtle approach. That is exactly why Penthouse has something for everyone. Moans of pleasure are all that you will be hearing here. Their breasts are full and ready to entice you, making you feel as though you have not had a decent drink in ages. Their pussy lips between their thighs will tempt you in more than one way.
In Few Words
Penthouse is indeed a porn site with a difference. The name itself makes you believe that you will be enjoying an unforgettable ride of ecstasy. The site is not one sided, if anything, it boasts of a plethora of sites that make it what it is. It is also one of the few pleasure portals to stick to the script as far as its adult action is concerned. The site has stood the test of time and it has also found ways to continue to do so! This is the kind of porn that is for everyone.
Visit Penthouse >>
---
Need to clear further doubts?
Have a look at some other PENTHOUSE tips on some other great porn review sites!
---