PERVERTGALLERY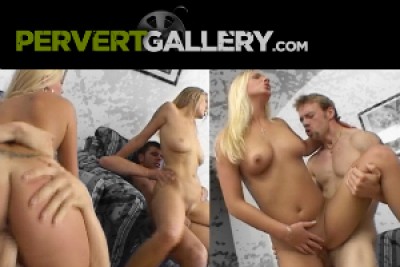 Overview
I have to admit, there are times that I act and think like a total pervert, I may be proud of that, but society frowns upon perversion and that sucks big time. Lucky for us horn dogs of the world because the porn industry's biggest producers in the form of Mike John and Tim Von Swine, have partnered up to give us our daily ration of only the juiciest and best fucking the internet has blessed us for a couple decades and running now. 2 of the best producers in porn have teamed up and created PervertGallery where only the most beautiful faces with a libido to boot converge to give us a taste of some sweet fucking with a lot of messy cum shots and jizz splattering every corner of the room. So lo and behold we present to you the porn site that will satisfy your need for all things kinky, PervertGallery.
Site Content
One thing you will surely notice as you enter the site is that pretty much everything you click from the home page will re- direct you to a sign-up page if you are a first time visitor. There aren't any previews as well because as you click on each of the videos being featured will also direct you to the sign-up page just as it does for every other link in the site. The only consolation is the comprehensive model index they have, that have pictures of their sexy models with tid bits of information and trivia for us to know their cock sucking bitches better.
At PervertGallery, all the links you will need is conveniently placed in the left and topmost part so you will never miss it when browsing through their webpage. Their menu bar contains most commonly used and visited parts like the home page, the videos section, a model list, the categories section, the members area and log- in, and a "Join" link that will directly take you to the sign-up page when you finally decide on subscribing to this exciting and hardcore porn site. We also think it's great that PervertGallery shows the average member ratings of the videos being featured in their home page as soon as we land unlike other sites that don't even have the option to rate content. Even their model list has the feature of showing their user ratings and you can filter the list according to the model's popularity, their order of joining PervertGallery, or by viewing the list in alphabetical order. There are more features available in PervertGallery that are not readily accessible for us to see but they are for the members to use.
Actresses & Video Quality
PervertGallery takes great pride in their vision, mission and goal to provide only the best in hardcore sex and the roughest fucking to ever grace the whole world with the aid of the internet. Though they are relatively new to the game in contrast to their competition, PervertGallery makes sure they are able to deliver and hold true to their promise of entertaining us with their content by giving us a little bit of everything rough and only the most wild fucking possible in this day and age. The creators of PervertGallery doesn't only have perverts and becoming professional perverts in the making in mind when they made the site, but they also include scenes that are in every way perverse to the average Joe.
PervertGallery deals mainly and produces high-quality content that are considered perverted by many. So you will pretty much expect to see a lot of hardcore porn and the roughest sex scenes to ever be produced in the world of porn. When we checked the categories in the menu bar, we found some rather interesting concepts being produced. There are the usuals like Anals, Creampie, Squirting and Titty fucking, then some rather specific ones like bush, shaved pussy, tattooed, big asses and tits, big dicks and if we are going for hair colors, blondes, brunettes and going as far as Redheads. Then they also have it down to geography as they have Asian, Indian, Middle Eastern, Interracial and Latina. Then we have the crème of the crop, the themes only true blue hardcore fucking fans would love like BDSM, Cum Swapping, Double Anal, Double Penetration, Group Sex, Double Vaginal, Gaping, Rough Sex and Orgies. If this doesn't convince you still, then you would have to visit PervertGallery and take our word for it.
In Few Words
Admit it, you have had instances when you can honestly say that you are a complete and total pervert. Hey, these people here from PervertGallery are not here to judge. In fact, they are here to encourage us and to help us embrace our inner perverts and let it out loud and proud. At PervertGallery the standard is all things perverted, from loud and rough group sex, nasty bitches sharing and drinking from a cup filled with hot jizz, double penetration starring only the big tittied brunettes in their roster or a noisy and erotic gang bangs. Though there is pretty much no way you can review their content if you are not subscribed, PervertGallery guarantees that you will have the time of your life jerking off from the many videos they have available. This is a great investment if you are a big hardcore sex fan like myself. Give it a try and visit PervertGallery right now!
Visit PervertGallery >>
---
Need to clear further doubts?
Have a look at some other PERVERTGALLERY tips on some other great porn review sites!
---