PIMPPASSPORT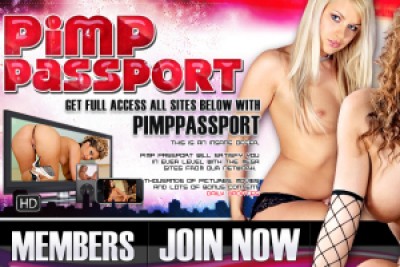 Overview
Pimp Passport is a dynamic porn platform that features a blend of entertaining gorgeous models in a variety of sex acts that will leave you gasping and yearning for more. Catch up with experienced pornstars in hardcore action with dudes endowed with impressively large members. Checkout the anal sex encounters with trannies in the heat of the moment. The selection of models is an aspect that will strike you as soon you land on the Pimp Passport.
Site Content
The red and black color shades add a welcome sparkle to the home page. Yet it is the easy navigation that made my day. I was taken straight to the network page when I signed into the member's area. There is a list of up to 11 sites to choose from. That was the first gift on the fly. I mean, few sites expose you to their goodies that soon. So, I already had extras under my subscription as soon as I subscribed. I could check out the menu on each of the sites by checking the member's area. Ideally, Pimp Passport is part of a large network of sites on Pimp Boss. In fact Pimp Passport is a mega site. This means that, when you subscribe, you are actually subscribing to a broad range of sites with a wide range of sex entertainment niches. Thus, subscribing to the platform allowed me access to one of the broadest options of porn entertainment I have ever had.
Actresses & Video Quality
There is a good reason why Pimp Passport can be said to live up to the bill of a mega site in all respects. I could not help trying out almost everything I stumbled on because the girls on the site are the best collection of cuties I have seen in a long time. You are treated to a variety of models; from Asian, sexy beauties with long beautiful hair and curvaceous figures, black hot and sexy models with juicy bums, blondes who won't allow you to blink; thanks to their breathtaking beauty, eastern Europe pornstars with skill and looks that would disarm the meanest of generals and lots more. The action also comes in its variety.
If you like to watch gorgeous beauties being rammed hard close to the camera; as they succumb to the spell of a formidable cock, you have plenty of that in full HD. If on the other had group sex, gang bangs and threesomes are what turns you on, you have them in plenty. The variety doesn't end there. I was impressed to catch up with trannies with formidable cocks getting down with girls and fellow trannies in hardcore encounters. Nudity shows are also available. You are presented with breathtaking images and videos of a variety of girls that will run away with a beauty pageant prize before the show begins. There are over 12 000 videos and a whopping 20 000 galleries to check out. Find hot content on such sites as Asian Porn Exposed, Glamour Blowjobs, Gogo Pornstars and more.
In Few Words
If you are looking for a one stop shop for your porn entertainment, check out Pimp Passport. It is hard to summarize all the aspects of the porn site in a single review, but I think to say that it is dynamic is fair. You have a user-friendly platform with state of the art technology. The videos are in full HD, the photos in crisp clear high res. The content is a ton to savor.
This website doesn't exist anymore, you can find similar content on our best porn networks selection.
---
Need to clear further doubts?
Have a look at some other PIMP PASSPORT tips on some other great porn review sites!
---