PIMPTUBECHANNELS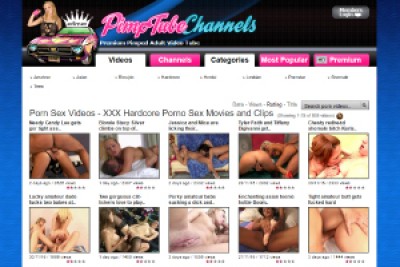 Overview
PimpTubeChannels is an adult entertainment site that works like a social media outlet but instead of regular videos you can watch hardcore porn videos. It is not difficult to navigate and is very easy to use. This site will make you feel like a premium viewer because of its high definition videos and high definition movies, you also don't have to go through the usual long talks, the over the top introductions that models make at the start of videos and the long, boring build ups. With PimpTubeChannles they make sure that you will go straight to the best part, and all you will have to do is sit, relax and let your man meat out.
Site Content
PimpTubeChannels is powered by Pimp Boss and has been on the web since 1996, it is easy to navigate and is user friendly, at the upper right side of the page you will see five tabs, the first one is the "Videos" tab that shows all the high definition short videos, there are about 38 pages full of these videos and each of them are rated by the viewer's depending on the performance of the models on the video.
The second tab is the "Channels" tab that shows the 12 channels that are featured on the site, some of them are AmateurPornHunt that has 70 videos, AsianPornExposed that has 65 videos, BackdoorPumpers that has 56 videos, ExcellentHandjobs that has 28 videos, GlamourBlowjobs that has 70 videos, GogoPornstars that has 118 videos and so many others.
The third tab is the "Categories" tab that shows the different categories that are available on the site; they have amateur, Asian, blowjob, hardcore, hentai, lesbian, pornstar and shemale. The fourth tab is the "Most Popular" tab wherein they filtered and uploaded the videos that are most watched and has the highest rating and the fifth tab is the "HD Premium" tab wherein you can sign up and be a premium subscriber of the site.
Actresses & Video Quality
Pimp Tube Channels features straight, gay and lesbian sex, in one video it showed a girl on girl action between a brunette named Andie and a blonde haired girl named Sammie, they were in a bed and they were kissing passionately, both of them were naked and Andie was rubbing Sammie's pussy, she then licked Sammie's nipples and sucked them while still rubbing her pussy, she went down on her and she immediately ate her out, she lifted one of Sammie's leg and she licked her pussy from the bottom to the top and sucked her pink bud.
They then switched positions as Sammie ate Andie out too and did the same thing, she licked her and sucked her clit and, while her pussy was being eaten, Andie was touching and caressing her breasts. Sammie then got a long purple dildo and teased Andie's pussy with it, she was still sucking her pink bud while she was using the tip of the dildo to rub Andie's opening, she then slowly pushed it and it went inside, making Andie moan, she went further and further into her hole and when it was halfway in, Sammie pulled the fake cock out and rammed it back it, she did this a couple of times and she quickened her pace as she drilled her.
Andie then took the fake cock from Sammie and she pinned her in the bed, she used the same dildo to pound her pussy and she did to her everything that she got from the other woman earlier, as she pounded her with the sex toy they kissed passionately again as Andie fucked her pussy in a very fast speed, she then pulled it out showing a very wet toy and she licked and sucked it so that she can taste the other girl's juice.
Another video showed a model named Briana Beach, she was giving a man a handjob and a blowjob, the man was leaning on a kitchen counter as he was being sucked, the blond model was kneeling in front of him with his massive cock in her hand as she deep throated him and sucked his balls. He then grabbed her, lifted her and sat her on the kitchen counter, he held her leg and lifted it as he rammed his long, hard cock into her pussy as his other hand reached out and squeezed her tits, he then made her go on all fours as he joined her on the kitchen counter and fucked her in the ass.
She used her hips for support as they became in sync with their movement, he then laid on the kitchen counter and he made her ride him, he was still holding her hip for support as she bounced on his cock filling her hole and caressing his muscular chest, he used his hand too to continue squeezing her tits as she rode him, the video then ended with her sucking him again and he exploded in her mouth, the also sprayed the remaining juice all other her face, she then licked her lips and looked at the camera seductively.
In Few Words
With the site's 10 years of operation it is with no doubt one of the best one-stop shop type of adult entertainment site, they don't just focus on one category but they have several categories that you can choose from and enjoy. All of their contents are of the highest quality and all of their models are top tier, your imagination will surely run wild and your thirst will be quenched when you watch their videos and sign up to this site.
This site has been closed, find more amateur xxx content on this best amateur porn sites collection.
---
Need to clear further doubts?
Have a look at some other PIMPTUBECHANNELS tips on some other great porn review sites!
---