PLUMPERWORLD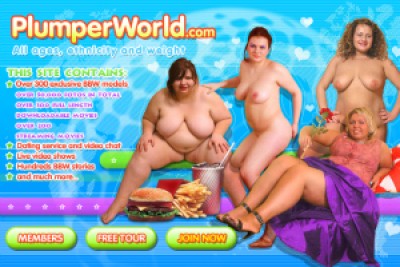 Overview
The PlumperWorld is an interesting premium porn site, which offers the visitors a nice collection of porn videos, which features BBW models. As you can expect from such a fetish site, the PlumperWorld will satisfy all your need for plump and big girls. This niche is a kinky and heavy topic, and it has a surprisingly large audience; you will see it for yourself, that they are right to be so horny for BBW models. This site launched ten years ago, and it has been updated since then, though not on a regular base. The updates are more or less frequent, though sometimes they add one video, on another occasion they add batches of scenes. However, the main thing to note is that the site is updated, and there are recent updates. As far as exclusivity is concerned, probably the safest thing to say is that there are some exclusive content, but the majority of the collection comes from a DVD which focuses on BBWs. The PlumperWorld offers nearly 1000 videos for the members, and if that's not enough, there is a lot more to browse. The first part of the included bonuses is the network of sites which you can access as a member. These sites mostly feature heavy niches, like BBWs and mature, and you may also enjoy some other fetish-like niches covered in the videos. Along with the bonus sites, you will be able to enjoy two types of third party content: there are video feeds in the members' zone, and a pay-per-view section. If you consider these bonuses, you will certainly like the large amount of videos you can find in there.
Site Content
Maybe one of the simplest aspects of the PlumperWorld is the tour page. As you open it, you will be welcomed by bright colors, but apart from the few pictures of the models, nothing else is featured. Never mind about that though, if you are here for BBWs you shall go straight to log in. Once you've logged in, you will find yourself in front of a bit more advanced page, where you can actually do something rather than just watching pictures. It will be pretty easy to find your way around the site, because under the main menu you can find another menu, where the photos and videos have their own options: the photos refer to the age of the women, while the movies to the type of the video. There are no search engines or whatsoever, so you have to go with these filtering options. The scenes you can find on the site are pretty awesome. Their content is good, but when it comes to quality they are surprisingly hot. While the FLV stream offers only SD resolutions, the files you can download go up to 720p and 1080p. It's quite certain that those who prefer quality will appreciate these options. The photo collection of the PlumperWorld is also really awesome, and if you like to view standstills, you will appreciate these; and also the fact that all are available as zip files.
Actresses & Video Quality
The PlumperWorld has hot porn videos, and amazing girls for you. You should be ready when you start exploring the site, that there are big things in there, mainly because it features only large girls. There is an expression which started out as a euphemism for fat girls, but nowadays, it usually refers to a porn niche; and this expression is the BBW, which stands for Big Beautiful Women. All models here are BBWs, and they weight two or three regular-sized girls. These hotties are not tight, they are quite the opposite: they have layers of fat on them, all over their body. Fat girls have their place in the world just as everyone else; also they deserve attention, and orgasms just as their cuter counterparts. If you used the words 'fatty', 'BBW' or 'plump' during your search for porn, and you are landed here, then it's quite certain that you have a fetish, just you may not know it yet. This means that you like when there is stuff to hold on while you bang a girl, and on these models, there is a lot. You will see that the models here are not the quasi-BBWs, they are actually quite fat, so don't expect here with hot girls, with a few pounds of extra… no, these girls have at least 70-100 pounds on them, which makes them big… and their breast and asses are large too, so if that's your thing, dig deep into the collection. All ages are present here, from the barely adult to the grannies, so pick what you like, and enjoy. There are two major mediums here: photos and videos. The photos offer mostly softcore stuff like modeling and masturbating, though some hardcore things may be found on them. The best way to enjoy the content is to download and use a picture viewer software in slideshow mode.
In Few Words
This site, the PlumperWorld, has a really neat and possibly unique collection. Though the content is only partially exclusive, there aren't much BBW sites out there, especially one that provides this high quality, and this makes the site to be heartily recommended. Since there are really many guys with a crush on chubby girls, sites like the PlumperWorld are appreciated. If you take a look at the included sites, you can see that there are two more BBW focused pages, where you can find mature or fresh big girls.
Visit Plumper World >>