POVBLOWJOBS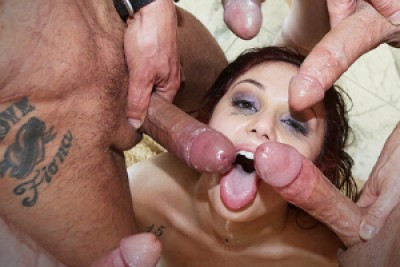 Overview
'POV Blowjobs' is a site created by porn movie director Jonni Darkko and it's part of the Evil Angel network of sites (which in turn are part of the Gammae network). As its name suggests, the focus here is on blowjobs seen from the point of view of the lucky guy (or guys) receiving them, which makes it a truly personal and intense film experience. When you become a member, you get access to all twenty-five Evil Angel sites and a blog that's associated with the site, Darkko's World, which not only features the scenes and chicks from POV Blowjobs but also from the other Jonni Darkko sites, such as 'Jonni Darkko XXX'.
There are multiple uploads of new material every day across the network so once you've gone through their huge archive, there'll still be plenty to see and the blog will let you know when something new has arrived. Among the Evil Angel sites you get with your membership are those of director's Christoph Clark, who 'specializes' in big tit and anal sex movies, Mike Adriano, whose site focuses on anal and oral sex, and Lexington Steele, with his big prick rogering tattooed women who revel in interracial sex. Evil Angels uses only professional models, professional studios, and professional directors to create the finest quality movies on the web. You won't find sharper pictures and movies anywhere. You can find their movies in adult entertainment stores around the world but, as a member, you will have had the exclusive premiere to every one of them long before they go out to those stores and you'll have seen them without leaving home and without having to go into any place you might feel uncomfortable entering. And you see them without ads or any of other money-spinning behaviors you'll find on other sites.
Site Content
Oral, anal and POV sex covers the bulk of the web's porn offerings so POV Blowjobs has its work cut out to compete in this very full field. What makes it achieve that distinction is the beautiful women it uses, the amazing quality of the cinematography, the upscale settings for the action, and the clever camera work from the director and crew. The site's Home Page is laid out for ease of access, like the girls themselves, with a series of tabs on the header for Home, Scenes, Network, Blog, Member Login, and Join Now, plus an invitation to receive promotional offers if you supply your e-mail address. Below this, are large images and thumbnails promoting their latest movies. Each collection of photos has a description of the movie and a link to an introductory clip.
The page footer has another 'Join Now' tab, a 'Continue Tour' tab, which takes you to more pages, and the site's details should you need them. Choosing 'Scenes' from the header menu, takes the visitor to a page of thumbnails that link to the related scene. A visitor can see short clips of these as well. Visitors can also flick through the ten pages of photos, all but the last one have 64 thumbnails to look at and choose from. That's a lot to look through but the site provides a 'Categories' menu to help. As well, you have a choice of languages to view POV Blowjobs through. In addition to English, you can have it set into Dutch, French, German, Italian, and Spanish.
Actresses & Video Quality
Pornstars such as Casey Calvert and Kendra Lust appear in movies like 'Wet Food #6' and 'Facial Overload #4' respectively. The first, Wet Food, presents Casey giving blowjobs to about six men and also getting some doggy-style action to keep her interest up. In Facial Overload, Kendra enjoys a facial after giving a blowjob; it keeps her skin soft and supple. Other recent movies on the site include 'Sperm Diet' (it may catch on if we men are all very fortunate), 'POV Juggfuckers' where big boobed Alyssa Lynn gets Jonni Darkko all excited even before his blowjob, and 'Suck It Dry' where cute Bella Moretti makes sure that not a drop gets spilled. POV Blowjobs has around 550 movies like those just mentioned while Evil Angel network has more than 1500.
All these movies are available for download and there are no restrictions on how many you take, when you're a member! With so much material in their archive, they need good filter and search features (or their members would soon get ticked off) so they have a number of searches, by Network and Scenes, for example. However, the biggest and best filtering feature is their Categories menu, which has more than sixty selections, including the biggest 'Straight Porn' where there are 536 movies available, 'POV', where there are over 345 movies waiting to be viewed, and 'Open Mouth Facial' with 273 movies. Once you've selected your big category choice, Open Mouth Porn, for example, you can then flick through the images by page or sort by Latest Update, Highest Rated, Most Viewed, and Upcoming.
In Few Words
How do you see all this amazing material? All Evil Angel sites can be streamed at a speed that suits your set up, for example, 240p, 480p, or 540 web HD MP4 movies, or downloaded in WMV (480p) or MP4 (240p and up to 1080p) formats, so you can watch at your leisure. These can all be watched on iPhone, Smartphone, iPads, and tablets too, which means you can watch just about anywhere. And it isn't just movies, they have hundreds of thousands of photos to download in zipped files.
Visit POVBlowjobs >>