PRIMECUPS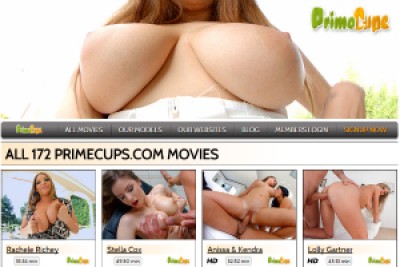 Overview
Prime Cups is the premium porn site for bodacious boobs so if that's your thing, this is your site. It's part of the Perfect Gonzo network, which was started by people who wanted better porn that the web used to provide, and Prime Cups is their look at that ever-popular male obsession with big tits and the women who have them. And, in the case of Prime Cups, the models' breasts are genuine. There's no silicone augmentation here, just pure unadulterated woman flesh. And they also use models that have few tattoos and piercings (and only then if they're tasteful ones), which is a major selling point for me at least. The other thing they ensure is that not only are the models tasteful but so are their clothes, the film locations and sets, and everything else about the production. Just to be clear, the movies don't just stare at the models big ta-tas, the girls and guys may like to use those bazookas in foreplay but it's only to get things heated up.
The movies include all kinds of penetrating sex, anal, oral, and vaginal; you don't go short for orgasms here. The Prime Cups site has about 170 movies, showcasing over 100 big-breasted beautiful models. All in all there's about eight and a half gigabytes of content, including nearly 31,000 screenshots and 26,000 photos. The Perfect Gonzo's network of ten sites adds oodles more content on top of that, through sites like 'TamedTeens' where first timers are initiated into the wonderful world of porn, 'Sperm Swap' where girls exchange cum mouth to mouth, or 'Ass Traffic' that focuses on all things anal, such as gaping bum holes, ass to mouth, double anal penetrations, and so on. In case their archive wasn't big enough already, they upload at least two new, exclusive to Perfect Gonzo, crystal clear HD movies across the network each week and as a member you'll see them all without interruption, no ads, pop-ups, or other distractions.
Site Content
Big tits are one of the world's most popular fetishes, everyone seems to get a thrill from them so Prime Cups is swimming in a crowded pond and needs to be exceptional to get picked out by an interested angler. Fortunately, it is exceptional. From it's high-quality production values to the beauty of the models and their plump, rounded, all-natural breasts, to the frenzied sex when the foreplay is over, Prime Cups hits the spot, and keeps on hitting it with every new movie. Prime Cups provides a number of different ways to find what you're looking for. Immediately under the header (which has a pair of the most perfect boobs as well as the site name) is a menu bar that allows you to jump to the Sign Up page, Member Login, Blog, Websites, Models, and all their Movies.
Below that is an opportunity to download a 50MB full-size HD movie just for visiting the site. Following that are photos and trailers designed to entice you into viewing their full catalog. Each trailer has a number of streaming and download options so you'll find one that works with your computer, tablet or mobile phone. Under the movie section of the page is a Models section with a thumbnail portrait of each model and a link to view the movies she's in. At the bottom of the page is a link to 'See All Models' and links to the other Perfect Gonzo network sites with their more than 1600 videos, in HD and SD, MPEG-4 and QH.264 formats.
Actresses & Video Quality
The girls of Prime Cups are especially selected by the guys at Perfect Gonzo to have the most bodacious boobs and the prettiest faces and, consequently, very girl is a winner and every pair perfect. They're almost all Caucasian chicks, as you might expect from a European based site, with girls from Russia and other Eastern European countries. Among the more famous names you'll see here are Lolly Gartner, Marina Visconti, Kyra Hot, and Amy Wild, girls whose incredible racks make them welcome wherever they go. Prime Cups has around 170 movies, each named for the star of the show (or should that be stars) with a description of the action to differentiate the various movies she's in. Every movie includes breast fondling by the woman herself, by her girl friend, or by her boyfriend. When everyone has become appropriately warmed up, the action changes to various sexual niches, oral or anal are the usual next step and the climax soon follows.
Once you're a member, the site's movies can be streamed in MP4 or QH264 (960p x 540p) or downloaded in SD (MP4 and QH.264) and you can choose between two speeds of MP4 and QH.264 HD (1280p x 720p and 1920 x 1080p) depending on the connection you have. Their photos are also downloadable in sizes up to 5616 x 3744 pixels, which means you can really blow these up for the big picture. There are no restrictions on the number of downloads either so you can get all you want of what you want. And so you are kept up to date, there's a Perfect Gonzo blog with all the latest happenings on the network's sites.
In Few Words
While Big Tits is the theme of the site, other niches are present too; anal sex and gaping bum holes are much in evidence, as are blowjobs, cumshots and facials. Rough sex gets an honorable mention because it isn't common on upscale sites like this one and it should be, and of course what would be the point of having big tits if you can't use them to get your man's prick off between them?
This site has been closed, find more great boobies videos on our best big tits porn sites selection.