PRINCESSRIO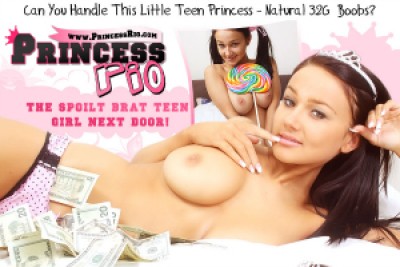 Overview
Princess Rio is the place where the sexual life of this beautiful girl is shown on screens. She has a taste for adventure and all that she does will really make you want to jump straight on her. So if you are ready to explore her, this is the place to do it.
Site Content
I really enjoyed the fact that the design really looks like is done by a model that is kinky enough to be playful for the user but also straight to the subject so you can understand all its details. As soon as you enter the site you will see a big, really big banner that features our model and a lot of different fonts that get your attention. This might seem a little bit aggressive but I loved it. Will put it into short words: simple, girl, naked, those are the real key ingredients of the website design. The colours are also matching the entire experience very well so Princess Rio is really felt by looking at them.
The layout has been kept simple, there are only a few elements that are combined great. So the user has an intuitive menu that he can use, and with just a few clicks he can reach what he is looking for. A mobile version is also available. So if you want to try it on from your own device you can do it with no problems. I tried it and I didn't have any problems with it, on the contrary, it was great!
Actresses & Video Quality
Princess Rio features a beautiful brunette girl that has a lot of fun and she films all of her dirty scenes. You will discover all kind of fetishes and if you like a girl that has fun with her body and really acts in a princess way, your cock will surely get hard by looking at her. She is super fresh and she has a body that you will surely get your eyes stuck on. Big tits, a round ass, beautiful lips and eyes are the way she gets your attention and when she starts to play with certain things you will simply feel the adrenaline into your body.
The videos are not filmed in any kind of special studio although they are very professionally done all the work is made with just a simple camera. The quality is HD so you will not be disappointed by that aspect. Another cool thing is that you can download the videos whenever you find yourself with no internet. The format of the videos is WMV. If you want to know the total number of the scenes that is featured on the site you will get a number of 68 plus scenes. Their average length is somewhere at approximately 5 minutes but there are some that last even 15 minutes or more. So it all depends on how long you plan to enjoy yourself while on the site. Image galleries are also available and their total number is of course 68.
In Few Words
Princess Rio is the home place of a beautiful brunette that loves to have fun with dirty toys and she likes to film her moments. If you were looking for that one girl that can rock your girl, she might just be the one for you.
This site doesn't exist anymore, find more great solo content on our best solo porn sites collection.