PUBLICPICKUPS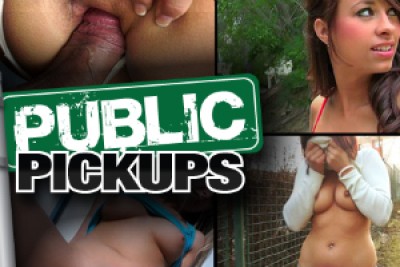 Overview
If you've ever wondered while walking down the street if a particular woman you see would take money to have sex with you or even just do something outrageously inappropriate for cash, well Public Pickups is the premium porn site to join because that's what they do. A cameraman and a man with money wander the streets of Czech cities asking girls and women if they'll take cash to show their naked bodies and, for extra cash, give blowjobs and more. Amazingly, to me anyhow, enough girls do all that for the site to exist at all, never mind have a regular weekly update, which they do. As well as the new movie each week, they also add hundreds of pictures that support the movie. Maybe it only really works in the Czech Republic or maybe they get a lot of refusals we don't see but they assure us, the viewers, that every video is a real pickup and not a setup with actresses. As the movies are made 'on location' by the site's 'cameraman on the spot' these aren't amateur productions. The videos are professionally made and the camerawork is excellent; it isn't like a studio setting but considering it's a quiet part of a street, a public building or a public park, the movies are as good as any TV or Hollywood film made on location. Along with all the movies and pictures from Public Pickups, your membership gives you thirty-two other sites in this network. Sites like, 'I Know That Girl', which is an amateur, user-submitted video site, particularly of ex-girlfriend movies, and 'Real Slut Party' has fresh chicks partying in their dorms, at the beach, in the pool, in the pool room, and pretty well anywhere that a group of girls and boys can get together and go wild.
Site Content
Public Pickups is one of a select number of sites that feature the 'girl on the street' being offered money to do things in public many of us struggle to do in private. The ones who accept, are filmed and the video placed on the web. There are only a few of these sites and they're all pretty good but I think this one is better. Perhaps because it's in central Europe and the cities and girls seem exotic, the whole concept of the site is more believable here than any of the others I've seen. I love amateur girls so I've visited a few of these sites and these girls are both realistic newbies and hot as well. Public Pickup's high-quality movies can be streamed, to watch them now, or downloaded, to be watched later, and there's no limit to the number of downloads of movies and pictures you can save for future viewing. You get a great range of video formats to work with whatever computing devices you have, like HD, SD, MPEG, WMV, PSP, and mobile devices like iPhone, iPad, 3Gp. If, even with all these options you still have difficulties, they have member support by web, phone, or live chat. The Home page of Public Pickups is primarily made up of trailers, that visitors can watch, and thumbnails that link to the full movie if you're a member. For web surfers, the link just takes you to the sign up page. The page has a right-hand column that has thumbnails for Most Recent Updates and Top Member Rated Girls. The header has a Member Login and Get Instant Access while the footer has a Registration link and the regular administration details you find on every site.
Actresses & Video Quality
By it's nature, Public Pickups focuses on amateur chicks, my favorite kind of pornstar. From its location in central Europe, the girls are mainly Caucasian chicks, though there are some Asian and Ebony chicks too. What they all have, however, is they're gorgeous. I guess when you have 'it' you long to flaunt it and when a guy and a cameraman come by, you seize your chance, and the money, and you run with it. The network has over 2000 exclusive movies featuring more than 1600 girls, which should keep you warm on winter nights for years to come, particularly when they update so often. The movies they have on offer right now, include 'Riding the Rails' with a beautiful girl called Mea showing us why its always worth paying to have a carriage to ourselves if we can afford it; this movie has blowjobs and doggy-style sex. Another video is 'Tourist Attraction' where the site finds Katia enjoying the sights but finding that her vacation can be a profit center too as she gives a blowjob and presents her tail for some doggy-style sex. Maybe a trip to a bar where the 'Barmaid Got Laid', in this case the lovely Rihanna, will convince you the site is one to join.
In Few Words
As Public Pickups is about picking up girls, the action is invariably one man and one woman. Nevertheless, as you can see from the movies I've described, not only are our hot amateurs keen for us to see their plump tits, rounded butts, and deep wet pussies, they're just as eager to enjoy a prick in their mouth, cum on their face and a stiff rod up their snatches. Most movies feature all three of these ever-popular diversions and quite a few include anal sex too.
Visit Public Pickups >>