PUFFYNETWORK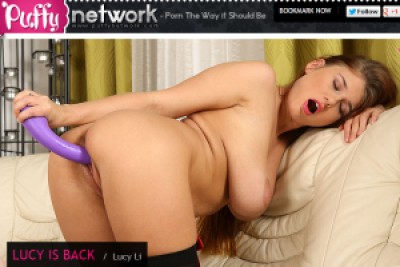 Overview
Puffy Network is one of the best fetish porn sites on the net if you are into sassy girls who puff up their pink lips. The network presents contents from five fetish sites giving you access to wide range of materials and not just puffy action. It is a great network as they also have sucky, facey, pissy and assholes action. This fetish porn site review tells you everything you might need to know about the network, so continue reading to the end.
Site Content
Puffy Network has a chic and sassy site design. The site girly look is attractive so you will definitely enjoy looking at the content, which they also presented nicely. The layout is clean and organized and it seems the folks behind the network have thought long and hard about the design and layout. This is because, everything about the site from the color theme to layout to features, matches perfectly. When you check out the site whether as a member or guests, you will find the homepage loaded with everything nice. The homepage basically contains the updates so there is no need to browse the content for fresh materials. Members of this site also get to own their profile, which allows them to keep track of all girls, videos, and photo sets. They also have a menu just below the huge preview episode, where the weekly member's video is featured. Below the preview episode is the 5 drop-down menus. You can use the menus to get around the entire network quickly and easily. There is a video index, model index, blogs, etc.
That's not all, navigation is not a problem as they have a basic search tool to help you narrow down the option. When you want to find content, you just type in the search tab the content or tag you are looking for. Besides the basic search tool, you can also filter content by model and content. Best of all, this site has an effective tagging system which you can use to find specific scene or model. With the tag system, you just click a word that matches your chosen description like blowjobs or pussy licking and content with these tags shows up on your screen. Additionally, the site interactive interface allows you to leave comments, rate videos and save to favorites. All in all, the site member's area is well-built so you can have an easy time finding content. Even though the content comes from five sites, there is no issue for they were able to link up all the sites nicely and have filters and tagging system that works.
Actresses & Video Quality
Puffy Network as the name suggests featured European girls that can make their labia puffy pink. But of course, the site presents all types of gorgeous girls from different sites getting it on. These girls don't just puff their pink lips or masturbate with sex toys, they also love pissing, giving blowjobs and having an orgasm on camera so you can watch. Once a member of this network, you get access to all the girls in action. Puffy Network is home to five exclusive sites like WetandPufft, WetandPissy, and WeLiketoSuck. These sites as mentioned earlier cover every niche so there is more than just puffy labia here. Best of all, the girls are sweet, sexy and horny for all sorts of action. For example, blonde and gorgeous Katy Rose is worth your time as she likes to tease before letting a guy fuck her from the butt. This Euro girl loves fucking women and men, making her one of a kind. And she is not alone, the network is loaded with beautiful, horny girls. When you check out the site, you fall instantly in love with the member's page loaded with an offer of sexy girls enlarging their labia, pissing and doing all sorts of naughty sex action.
At the time of this review, the network has over 1386 videos you can enjoy in any way you like be it download or stream. Yup! You have two options to view the content here, you can download in WMV and MP4 formats at multiple bandwidths. If you don't want to exhaust your hard drive, you can simply stream the episodes in your browser through the flash player. They also have 1-minute clip episode for those who want to jump into a specific scene. The clips are great for those who don't have the time to watch a full-length episode running approximately 25 minutes. By the way, there are also galleries found below the videos choices on the same viewing page. The photo galleries contain nicely sized thumbnails and folders showing around 110+ images each. The current stats shows there are over 173, 480 pictures or 1380 galleries. Members of this site can also download the pictures, there is a Zip download link for those who want to save the pictures in one go. Take note, if you decided to download you have an option to download low or high- quality pictures, your choice. Or you just view the pictures in your browser and simply enlarge to sizes of 1019×706 and 390×250 pixels. All the content here is available on mobile devices so you can take your porn on the go. The network also updates content twice a month bringing you additional porn to watch.
In Few Words
In summary, the network is a good source of fetish porn videos. So, if you are looking for a site that offers a bit of everything, then Puffy Network is perfect for you. This network has impressive content, all delivered in an erotic manner. It is a good place to satisfy your fetish porn desire as they cover all areas, from softcore, hardcore and fetish content. At Puffy Network, you won't regret joining as the offering here makes it one of the best porn networks on the net.
Visit Puffy Network >>
---
Need to clear further doubts?
Have a look at some other PUFFY NETWORK tips on some other great porn review sites!
---