PUNISHTEENS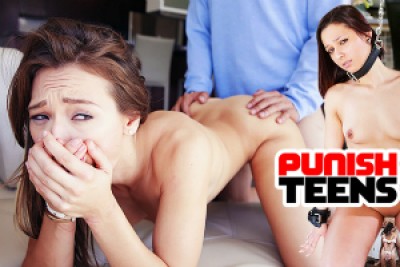 Overview
This is a site for those who understand the link between agony and ecstasy and want to explore both in all kinds of naughty ways. For those who love ropes, restraints, leashes, hair pulling, spanking, belting and the inevitable tears that follow, this will become your home from home on the web. It seems only white and Asian chicks like this kind of treatment; certainly they're the only ones we see on the site. Still, with that exception, there's plenty of variety on offer, such as blondes through to raven-haired, slim chicks with pert girlie bits to hot mommas with bodacious bums and boobs. No matter what your tastes in fresh ivory chicks, you'll find plenty here who also happen to share your love of hot-blooded, hot-tempered, no-holds-barred sex.
Site Content
The PunishTeens site's Home Page has quite explicit images and Gifs that act as links to the videos inside the site. However, the only way a surfer can see those videos is if they register and login. And, of course, to register you have to provide details that confirm you're an adult. Not only do the members have to be adults, the girls in the movies have to be adults as well in order to comply with the U.S.C. 2257 Record Keeping Requirements Compliance Statement. The site's owners also understand the requirement to keep their members' personal and financial information safe and you can study their Privacy Policy to understand the steps they've taken in that regard.
Actresses & Video Quality
Rough sex is for those who can still take the bruising knockabout nature of the game, which means the girls on this site are, for the most part, creamy-complexioned fresh chicks who like to be wrestled into submission by a man. They don't share their time and bodies with gentlemen; their natures want a cave man or at least a brave man. The site's concept is one of hard sex between resolute men and tough women who can take what gets dished out and come running back for more so there's no solo masturbatory sex, no girl on girl sex, or orgies. The focus is strictly male-on-female with the occasional two men on one well-manhandled girl. So what does get dished out? Lots of anal sex, of course, because that's the way to put her in the right submissive mood. Then there are plenty of ropes and restraints, so she has to take what's coming to her. Sometimes she's tied spread-eagled on the bed, sometimes her arms are tied behind her, sometimes she's tied and gagged, and sometimes she's handcuffed into vulnerability. Whatever the means, she has to let her man do what he will. Fortunately, whatever he does, she loves it. Once she's been taught and brought to heel, she can be allowed more freedom; the freedom to bring her master's belt when she's been bad, for example. The freedom to have her hands untied when she bends over his knee for punishment or the freedom to hold her own legs back, ankles beside her ears while he drills her compliant bum hole. Once she's trained, she may kneel patiently at his feet to have her face slapped or wait there patiently for him to put his cock in her mouth. She may be allowed to use her hands to support herself when she's being taken from behind, once she's learned not to fight him. Of course, being a good girl doesn't save her from the pounding he gives her pussy, mouth or ass and she wouldn't want her submission to make life tame. Even when tamed, she's a wildcat at heart. The girls like even their toys to be harder and rougher. There aren't any pretty colored vibrators on this site; they're for wimps and wusses. What these girls want are over-sized dildoes used with a powerful thrust or hard tub sides and a face full of bathwater. They want to be hurt when he's preparing them, hurt when he's doing them, and continue to ache afterwards. Their facial expressions tell the story; there's no dreamy, lovey-dovey simpering on PunishTeens, only grimaces, discomfort, and trepidation. It's sex for those who like their lives and love hot and spicy, vanilla is out and pepper is in.
In Few Words
Pricing at the site depends entirely on how much 'punishment' you feel you need to give these fresh chicks. A two-day Trial, for example, will cost you only a dollar. You don't get to see everything the site's got for that so a monthly membership at just under twenty dollars is probably the better choice. If rough sex is your thing, however, the three-month membership at around $50.00 or the annual subscription at about $96.00 are much the better options. With any of the full memberships, you get to see the entire site's content and all its hot chicks in super-sharp HD movies and images. Your subscription also gets you access to their mobile site so wherever you are, you'll have something good to watch! Options for registering include an online sign up. There are two ways to pay and the first one is a credit card, such as Diners Club, Discover, JCB, MasterCard, and Visa. If you don't like giving out card details, or if you're worried how the billing might look on your statement, or maybe you just prefer not having a credit card, there's the alternate payment option of PayPal. For this kind of unusual material and with all these simple choices to join, you should give this site a good going over, and right away!
This website doesn't exist anymore, take a look at our list of BDSM pay porn sites.