QUEBECPRODUCTIONS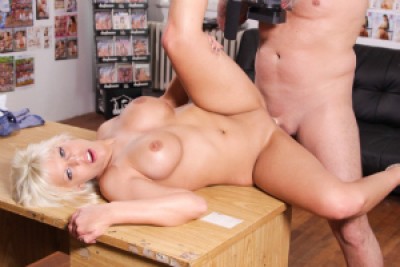 Overview
The QuebecProductions is a Canadian porn studio's official website, where you can access a fine selection of original and exclusive Canadian porn. This site has a lot in store for you, and if you don't mind that the interface is in French, you will surely love the content. You may be quite surprised, but Canadian girls are hot, open-minded and they are really good in bed. On this portal, you can find a selected compilation of porn videos which feature some of the biggest porn stars of Canada. The site is active, and there are usually four updates every month, usually added on a weekly schedule, but they may deviate from this frequency. For example, the last two scenes were added on two consequent days.
It seems that the site doesn't offer you any bonuses, so at its actual state, the QuebecProductions has a fine selection of porn for you, updated every week, and if you like to watch cute girls in really hard action, you will surely enjoy the scenes of this site. We have to say that we were troubled by the site, but when we actually realized that this one really offers exclusive porn, we felt happy. Consider this: you get original Quebec-porn from a real Canadian studio, and you can find the hottest actors and the best directors or Canada working together for your entertainment. Isn't this great?
Site Content
Well, it's all in French. When we first opened the site, we thought that it's just joke, or just a way to make the site feel more authentic. But after we confirmed that we are considered as adults in our community (but not in our heart) we were surprised to see that the site doesn't use English. "Wow", we thought. They mean business, and the audience of the site is either slobs who speak French, or they meant the site for Canadians only. However, don't despair, you can find your way around it easily. The menu is on the top, and it features the usual stuff: DVDs, scenes and photos, along with the models, and a short description about the directors.
The tour is really hot, and it features some hot trailers, so you can gather the information you need to make a decision. When you join, you will see the same layout inside. This is a template the newer and the actually updating Gamma-powered websites use, so if you are familiar with some of those portals, you won't have any issues with this one either. The search engine could be useful, but you can only use the French expressions for the niches, or the girls' name. The search results' page is fine though, because it lists the scenes, and there are two other tabs: Photos and Models. On the videos' listings page, you can sort the list by recentness, number of thumbs-up and by ratings. You can also see two dropdowns, from the left one you can select a model, and from the right one you can pick the category you are interested in.
So, if you pick a scene, you will see that it can be played in the browser, or saved to your local drive. Now, both options are reasonable. The in-browser access however requires you to make a compromise: the videos are not played in their full quality, usually the Web-HD is what you get. Since every scene comes from quite recent DVDs, you will find it out soon enough that almost every one of them is in HD. And it's not just the regular 720p, gorgeous Full-HD MP4s can be downloaded too. There are always picture galleries added with the scenes, usually featuring real digital photos shot during, before and after the actual action.
Actresses & Video Quality
The models here are the jewels of Canada. If you thought that only the US girls are gorgeous and horny, you were terribly wrong. Put aside your stereotypes and explore Quebec Productions without any prejudices, otherwise you won't be able to really enjoy it, and it won't be the porn's fault. So, in case you are looking for fresh girls and tight bodies, you can get it here, and they are prime types. You can see as the models of the site are fucking each other, with sex toys, lick and finger the other. Apart from the tender beauties, there are some wild-looking chicks too, with large breasts, nice tattoos, and an insatiable lust for something in their puss. The videos here are studio-made, and though they are mostly mainstream, they are shot in different styles, and they all feature good sex. Apart from the usual stuff, there are girl-PoV flicks, anal sex, hardcore lesbian fucking, and you can also enjoy some kinky. In some scenes the girls are chained and they get fucked hard… and they like it. The videos are made by Vid Vicious, and they feature Canadian stars, such as the Lane sister, Amy Lee or Vandal Vyxen.
In Few Words
The site is really new, and it has fresh content. To be honest, we really enjoyed our time here, even if didn't understand a single word. Quebec Productions is easy to use, so language is not a problem, and the content really makes up for that. We are always on the lookout for new, hot porn sites, and this three years old wonder really made our day. And it's quite certain it will make yours too. With nearly 50 hardcore scenes, and more coming every week, the QuebecProductions is a fine addition to all porn-fans bucket list.
Visit Québec Productions >>
---
Need to clear further doubts?
Have a look at some other QUEBEC PRODUCTIONS tips on some other great porn review sites!
---