REALITYLOVERS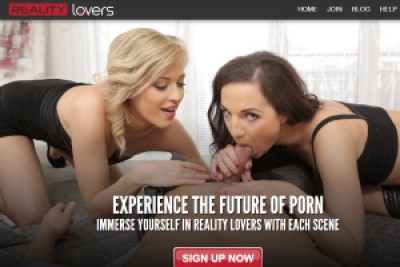 Overview
Do you know when was the first porn movie made? You will be surprised to know that the first porn movie was made in 1896. What started off as a 7-minute shower scene in a French movie, became very hardcore, as it is today, within 10 years. So, the kind of porn that you are watching has been the same for more than a century. If porn has been so hardcore, then why is it so popular? Porn has maintained its popularity because it has adapted itself to the changing times. Porn owes its success to those sexy sluts and bitches, who show every inch of their most intimate parts, breasts, nipples, cunts and assholes, for your benefit. And studs love to watch them because the sluts are getting fucked on camera, and these sluts can take on multiple cocks and experience multiple orgasms.
Today, the way porn is delivered is very different from what it was a few decades ago. With Internet, the delivery of porn has changed drastically. That's where features like live cam shows and VR come in. You have heard of live cam shows, but what's VR? VR stands for virtual reality, a form of virtual and simulated environment in which you can view porn. You get a feeling of being an active participant in the porn act, and you get to experience porn rather than simply watch the act and jerk-off. Only a handful of sites have managed to provide VR porn and RealityLovers is one of them. To help you understand more about VR porn in general and RealityLovers in particular, we have compiled this review for you. We are sure that after reading this review, you will subscribe to this site.
Site Content
First, to watch VR porn, you need to have an appropriate VR gear, such as Samsung GearVR, Oculus or Google Cardboard. Your Android or iPhone can also double-up as a VR gear, if you wish so. Having told you about this, let us look at what RealityLovers offers you. Simplicity is the hallmark of a great site, and with RealityLovers, what you get is simplicity. Simple, professional and sophisticated are some of the adjectives that you can use for this site. The two naked chicks hugging each other in a very seductive pose and licking their tongues is sure to keep your dicks hard for a long time to come.
Useful tabs are placed at the top right of the site. Home, Join, Help, Blog and Login are the ones you will find. After this sexy image, you get to the next couple of videos to be released and their release dates. So, you now know when to come back and check out the newest ones. A bunch of videos against alternating red and grey backgrounds comes next. There are about 66 videos in-toto. Each video is loaded in a specific format. A video player shows a double image of a screenshot, usually one in which the slut is being fucked. You can play the video, as a trailer to check out what is there in the video. Above the video trailer, there is a title and a brief description. To the right, there are 10 thumbnails, you can enlarge and watch in a pop-up screen.
The Blog is an interesting part of this site. You can find all the girls of this site in this section. This section also informs you about the latest news from RealityLovers site. You can follow news clippings, articles, interviews with porn stars and many other interesting tit-bits. RealityLovers is nominated for the 2017 AVN Awards in Las Vegas, equivalent to the Oscars of the porn industry.
Actresses & Video Quality
You have trailers to watch, a link where all your favourite porn stars are listed and sexy photographs to enjoy. I would say that this is an amazing site to spend your evenings. The chicks on this site are not the average sluts you watch in many porn sites. These are special porn stars and they know how to act in a VR based porn video. To give you a brief background, in VR based video, you wear the VR goggles and watch the porn. Instead of only watching porn, as you do traditionally, you are an active participant, because you feel that the slut is performing on you, and you are fucking her. This requires a different tactic, both for acting as well as for capturing the act on camera.
These sluts know their stuff very clearly. They are diverse, so you can enjoy ebonies, Latinas, Europeans and Americans. There are redheads, brunettes, curly haired sluts, dark haired chicks, and many others. Their bodies are so sexy that your girlfriend would start envying them. From head to toe, they exude sexiness and a confidence that would take your breath away. When they are fucked, their breasts jiggle, bounce and sway to the fucking motion. Nipples are taut enough to be squeezed and sucked dry. Waists are slender enough to be held tightly for easy fucking of the bitches. Pussies are pink and juicy, and always hungry for a hard dick. Asses are those love cushions that you can use to save yourself when you fuck her asshole.
When you watch the trailer, you will find that the background and sides are stretched. In fact, the entire video has a curved look. Well, this is the 3D concept, which VR brings to you, allowing you to perceive depth, width and height of objects. With head tracking technology, and 180o range of your view, you cannot miss out on any detail that can be seen in the videos. With binaural sound and 1080p full HD quality videos, your porn experience will only get close to reality as possible with VR.
The videos are as diverse as the sluts. There is something for all porn audiences, and the videos are not limited to only hunks. There are videos in which a guy is sucking and fucking a slut, cumming all over her. You can enjoy voyeur videos, videos of bitches playing with their bodies and masturbating, couple-sex videos, threesomes, outdoor sex, and even maledom and femdom videos. You seem to be restless, for I believe you have a VR gear with you and you want to watch your porn on it. Have patience and read the conclusion before you subscribe to this site.
In Few Words
Porn sites that innovate become the darling of the masses, and RealityLovers is no exception. Whether you own a VR gear or not, you can enjoy a great porn experience with this site. All you need is an appropriate mobile, and you can watch your porn without any hindrance. Subscription is within your reach, and the kind of sluts featured on this site are amazing. 3D videos in 1080p full HD quality and binaural sound, the videos are sure to keep you busy for nights together. Sign up right away!
Visit Reality Lovers >>
---
Need to clear further doubts?
Have a look at some other REALITY LOVERS tips on some other great porn review sites!
---