REALJAMVR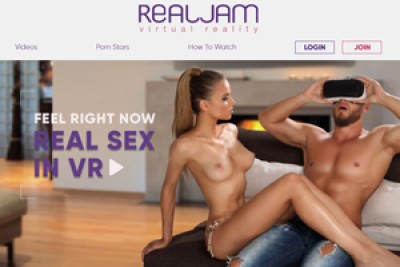 Overview
RealJam Vr is one of the finest VR porn sites you can find online. It offers amazing hardcore scenes that you can enjoy in a totally realistic 3D environment. With powerful VR gear devices, you can check out all of the site's videos and experience authentic VR porn that has become quite popular nowadays.
Site Content
What's very noticeable when you visit RealJam Vr is its modern design, which is pretty ideal considering that this is a virtual reality site. The home page has several tabs that you can use to browse the site's features. The Videos tab shows the site's collection of movies. The Pornstar tab takes you to the model index page, where information about the performers is kept. At the home page, you can directly access your membership account. Or click at the Join tab to see the site's membership offers if you are not member yet.
The large text font makes it easier for you to browse the site. Just scroll the page up and down and you can see the entire list of videos. The site arranges the videos in a grid. The video thumbnails are big enough for you to see the performers. Every video clip has a brief description of the scene that also includes its estimated duration. If you are not so sure about the video, you can bring your cursor over it to trigger a mini slide show.
Actresses & Video Quality
Virtual reality has been around for some time, but not everyone has in-depth knowledge about it. If you are one of those people who lack the technical expertise, the site has a section that is devoted to giving instructions on how you can properly watch all of the site's videos. Aside from the VR-capable Android devices and iPhones, the site recommends 3 main VR gear brands, Samsung Gear VR, Oculus, and Vive. They have a mini-tutorial and some links to download appropriate programs for the above-mentioned devices. You need to follow the instructions to avoid running into problems later on.
RealJam Vr features 37 extra hot models in all of its movies. These are all European girls who are mostly from Czech Republic. If you want to learn more about these ladies, you can check out the site's model index. Here you can see all the performers in high def pictures. Included in each model page is detailed information about a particular girl. You can see her name, age, measurements, and even Twitter or Facebook accounts.
All members can access the site's video library anytime they want. RealJam Vr has around 60 VR porn videos in its archives. With your subscription, you can download or stream any of the hardcore scenes in MP4 format. Each video clip runs for about 20 minutes long, with bitrates of over 15000K. These are all HD movies available in 180° viewing. This means that you can turn your head around and enjoy even the architecture of the virtual surrounding you are in.
Most of the hardcore xxx scenes are in POV perspective and feature lots of blowjobs and reverse cowgirl sex. It's just fantastic that with virtual reality, POV scenes like these have become more realistic and totally immersive at that. Streaming is particularly good because the site has a large embedded Flash player. You can expect a smooth playback with several video options to choose from.
RealJam Vr only allows full access to premium members. If you want to subscribe, they offer 3 membership deals. You can choose one that fits in with your budget. Billing is secure and discreet, so you don't have to worry about any privacy issues.
In Few Words
RealJam Vr is a great place to watch hardcore scenes in virtual reality environment. Here you get to enjoy European beauties as they give blowjobs and ride you with their bouncing butts on the air. The site has futuristic design, but very user-friendly navigation tools. As long as you subscribe, all of their videos are yours to enjoy online.
Visit RealJam Vr >>