REDPOLISHFEET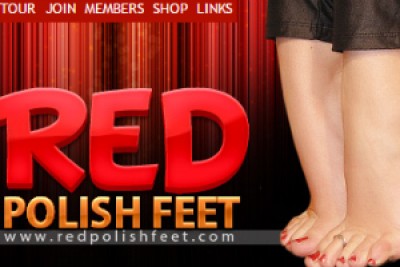 Overview
Have you ever thought how striking and how sexy the colour red is? Do you feel alive and hornier when you see this sensual colour? If this vibrant visual turns you on easily, then I'm sure you would love seeing the sexy toenails of drop dead gorgeous porn sweethearts.
RedPolishFeet is a delicious site that would make you understand porn passion more clearly. Although there are thousands of porn fans out there who would prefer hardcore porn most of the time, there are still those deep and passionate porn users who love to take it slow and simple. Are you one of them?
As colour red strongly symbolises passion, RedPolishFeet has made it sure they offer nothing but the best foot fetish in the industry. However, they made a yummy twist using red nail polish. These appearances make a darling look all the more seductive and sexually inviting.
Site Content
RedPolishFeet greets you with a homepage set in dominant red colour. High definition images of sexy feet in red nail polish would prick your curiosity instantly. The website is simple. The models are all laid out in their most seductive angles and positions. There are great camera works and display as well.
The website comes in four different languages. There is a members' area wherein you can join in no time at all. Once you clicked the link, you will see the great offers. The content is exclusive, so you really must have to get an account before you can enjoy it. And based on experience, this site is the best so far when it comes to confidentiality and customer support.
Browsing down the member's area, you can see a lot of related porn sites. These are all completely accessible once you've become a certified member. There are tons of clips that would keep you sexually engaged every day and every night for a long time. The updates of content are consistent, so you can rest assured that your time and investment on RedPolishFeet are really worth it.
What's more exciting and sexually captivating is the feature wherein you can make or direct the foot fetish fantasies in your mind. It's like making a photo set of your wildest desires. RedPolishFeet gives you the opportunity to make your cravings come true with the help of their excellent video team and create whatever it's on your mind.
Actresses & Video Quality
In making a high-quality foot fetish video that includes red polished feet, you must first choose your desired porn performer. Make sure to send a complete and detailed description of what you crave to see. The staff behind this wonderful website would review your requests and I assure you, they would do anything in their power just to satisfy your needs.
The videos have an average running time of ten minutes. You can browse the site as long as you want and you'll see a mixed of beautiful porn models that came from the different sex spots in the world. These dazzling sweethearts sometimes appear on pictures and videos wearing black pantyhose and skimpy outfits. However, the main focus always comes down on their red polished toenails.
Watch how they can make you wet and wild by just moving their toes and feet to the rhythm of soft core porn pleasure. Look at those eyes that can see right through your soul as they are performing the most seductive foot fetish acts you'll ever see in your whole life. Let them tease you real nice and real slow. Let them take you higher and higher into the red and sensual world of mind boggling climax. These footjob sex videos and performances would surely be one of your favourites.
In Few Words
RedPolishFeet is a safe and world class foot fetish website that would surely take your experience to the next level. Do not get left out on what's hot and what's deliciously crazy in the world of porn satisfaction and entertainment. Sign up as a member today and start tasting the once in a lifetime experience!
Visit Red Polish Feet >>
---
Need to clear further doubts?
Have a look at some other RED POLISH FEET tips on some other great porn review sites!
---