RETROGLAMOUR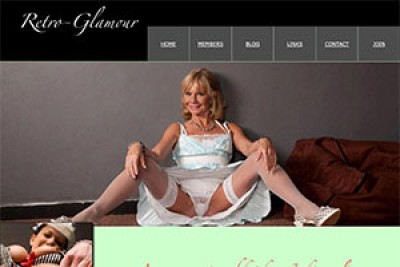 Overview
Retro-glamour is a porn site that provides amateur sex content for people with a knack and fetish for watching ladies as they pull up their skirts and dresses for the viewer to see and even fantasize what lies in store if the girl were to be fucked by someone. Although most of the content is predominantly sneaky peek stuff into the underskirts of these glorious and glamorous girls, there are some scenes in which the girls can't stand it anymore and remove their panties and stockings and go at each other in sexy hot and steamy action. There is even a bit of sex toy shows.
Site Content
The site sports one of the rarest color hues on the porn scene. If the designers wanted to draw attention, they succeeded. I was impressed with the set of user tools and the layout. The landing page is equipped with a variety of browsing tools that helped me sift through the content with ease. There is a model index, a tagged captions list and numerous other links. I quickly chose my favorite model and checked out what she had to offer. There are many models on display. The site gives you exclusive fresh content that you won't find anywhere else. Navigation is therefore a seamless experience on this site; despite the lack of an elaborate search tool. I loved the fact that I could access the content on this site on my mobile phone. It is fully optimized for viewing on mobile devices including tablets. There are no bonuses on offer but you get plenty of entertainment in great quality videos and pics here. You will hardly have time to seek alternative entertainment. The content you get on this site is exclusive and unique. There are no videos to stream but you can download the content to your devices for local viewing. All the content is presented in HD.
Actresses & Video Quality
Retro-glamour provides a wide range of entertainment for porn fans. While the main focus is on glamour girls doing their thing by pulling their clothes aside to allow users a crisp clear view of their goodies, there is plenty of other equally titillating stuff. The girls take it a notch higher and can be see as they finger their pussies inside their knickers or even pull them off for a full view of their bum pussy and other goodies hidden in the valley of pleasure. Some of the scenes on the site are shot indoors while others are shot in open public places such as lawns in recreational parks and street rest-places. Sexy and lacy lingerie is carefully interwoven in to the main entertainment. I loved the presentation and performance by Masie, the blonde. The girl is hot and attractive by all means. She is endowed with a sturdy body and some equally shapely and sturdy boobs. The girl spreads out wide for the camera to capture what she has in her valley of joy. She has her knickers fully removed and displays her pussy in suggestive ways.
In Few Words
The site teems with a variety of content to savor. There is something for everyone. The scenes gradually move from naughty soft porn sneaky scenes with the girls showing their lingerie to some highly erotic scenes in which the cuties are charged with sexual energy and go at each other with an insatiable appetite. The quality of videos is top notch here.
Visit Retro-Glamour >>