SCANDIPORN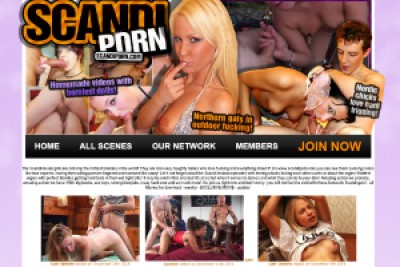 Overview
What do Denmark, Sweden and Norway have in common apart from the glaringly obvious constantly cold weather? They're Scandinavian countries, and what do Scandinavian countries usually have? Drop dead gorgeous women. That's right people, statistically speaking, there are at least 90 per cent good-looking women in these countries, which are pretty good odds.
It is a well-known historical fact that the Vikings would only bring the attractive women with them either to their home lands or on their journeys. Not only are they hot, but they are also freaky and would do anything to keep themselves warm from the harsh winters. So if you want to see Scandinavian chicks getting into some kinky stuff, you are in the right place.
Site Content
"Scandi" is short for Scandinavian, which this website mainly focuses on. These ladies speak another language but that doesn't mean that their website is not in English. Everything is laid out in a simple format and navigating through the website is fairly easy. Once you log in ScandiPorn, you'll land on their home page where you will see preview tiles of their uploaded videos just below a description of their website. Of course, in order for you to see them, you will have to register as a member.
Right now, you might be wondering how much it costs for a monthly membership, what do you get in return or even if it is worth the money. The short answer is yes, it is definitely worth it every single penny that you invest on these smoking hot women. The longer answer is this: when you sign up for membership, you not only get to view the videos, but you get to download them as well. You will also have access to their picture galleries like some high-quality video stills. But those are for basic membership types.
Actresses & Video Quality
Statistically speaking, there are a lot of good-looking women, but ScandiPorn prides itself in finding the best women who wants to do all the nasty thing a normal girl wouldn't. ScandiPorn has various videos categories aside from ladies getting hotter than a sauna. There are videos of women playing with their privates with either their own hands, a sex toy, or by someone else. Then there's some leather, mouth gags, riding crops and hot MILFs. Sure the MILFs may not be as perky as the other women, but they know how to treat you right. These Northerners know how to be hospitable to their guests.
There is at least 192 videos at least 25 minutes long uploaded from the newest date. But if you are the kind of person who prefers their ladies taking their clothes off or getting naughty pictures taken, then the gallery page is for you. There are at least 32,410 pictures to view online. The images are uploaded in the highest possible resolution without compromising the quality of the photos. Saving of the photos is possible but you have to do them one at a time, which may be troublesome for some, but for the most part, you get to pick which ones you get to keep. Some images are simple and start off innocent, like the women stripping off their clothes one by one, or some beautiful close ups of the models.
But then it gets kinkier by the image, like women bounded by silk ties or ribbons, getting hand cuffed by a pair of fuzzy hand cuffs or just having sex toys being inserted in them. What I like most about ScandiPorn is that each movie has a "story" to them. For example, this one clip was this man and woman, taking a nice evening stroll around the city, sharing an ice cream, making jokes, doing normal things couples would do. A minute in the video, the woman gets a little frisky and while the man can definitely feel her getting hot and heavy. They tuck into a narrow alleyway stacked with crates, cardboard, boxes and other discarded items. Once they were perfectly concealed by the surrounding garbage, she pulls down him pants and begins to pleasure the man's cock.
The intensity of the woman's blow job was so passionate, they both stop and run back to their apartment to finish the deed. Other clips don't have a "story" per se, but they do have interesting scenes as well. For example, these two blonde women wearing some very sexy and lacey lingerie were taking turns licking ice cream. While the first woman was licking the melting dessert, the second woman grabs a can of whipped cream and a bottle of chocolate syrup. She sprays cold whipped cream on her nipples and licked them off, followed by some chocolate syrup as four other men show up and start putting whipped cream and chocolate syrup on the women. They start to lick the tasty syrup and cream off the women before they proceed to pleasuring each other and ultimately, they start banging.
In Few Words
Compared to the other premium porn website, ScandiPorn has a lot of offer. Smoking hot women, affordable membership, great content, downloadable high-quality videos and pictures, what more could you want from an adult video website? Did I mention you get to access Ex Movie Pass's network of other adult websites? Getting membership will give you access to a variety of other types of adult videos, and I would like to see other websites top that offer. The biggest question is why are you still reading this and not logging in to become a member right now?
Visit Scandi Porn >>
---
Need to clear further doubts?
Have a look at some other SCANDI PORN tips on some other great porn review sites!
---