SECRETFRIENDS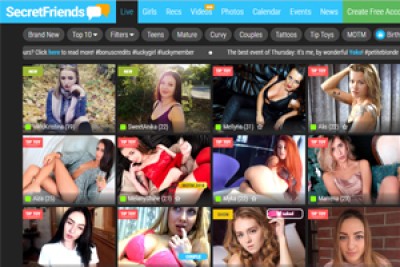 Overview
Secret Friends is an incredible live webcam site that guarantees a memorable webcam 'sexperience' online. It features sexy amateur girls from Europe, with lots of varieties including the hottest blondes, red heads, brunettes and mature chicks. These girls are all ready for some raunchy chat sessions with you at a pay-per-minute arrangement.
Site Content
Secret Friends has one of the sleekest sites out there, with a very beautiful layout and great colors. Right from the homepage, you get the girls online already listed and arranged beautifully, with icons beside their names showing whether the model is free to chat with or not. Green means free while any girl with a red or blue icon starts taking your credits once you're in her room.
There is also a nice notification bar on the top of the page that updates you on every new improvement on the site and other news also. Even though the site doesn't offer an advanced search engine, which I personally like very much, it still makes it very easy to navigate by using the several filters and categories that are neatly arranged across the top.
Each model on the site has a bio and schedule readily available, so you can get to know them better and know when they will be available to talk to also. Also, once in the room of a particular model, you can choose the type of chat you want to have with her. Apart from the public chat room you're directed to once you click on the model, there are two others; private (where you spend some time with the girl alone but can have intruders peek in once in a while), and VIP 1 on 1 (this is just you and the girls, no one else can come in to disturb). You are also given the option of free cam2cam when using either private or VIP 1 on 1 chats.
You also get access to premium photos and videos on this site easily, for as long as you want by just parting with an equal number of credits. Secret Friends is just as incredible on mobile devices as on computers. Everything runs just as smoothly, including the videos.
Actresses & Video Quality
This site features amateur European girls and there are lots of varieties. You get your blondes, red heads, brunettes, curvy, mature, you name it and they have it. There is just no shortage of varieties on this site and they are all incredibly hot.
With each model having her own preference, you can get some to strip down and act out your naughtiest fantasies for you in a private chat but some would prefer to keep their naughtiest and dirtiest little tricks for the VIP 1 on 1. This is in my opinion majorly because of the cost difference. I mean you got to have more tricks up your sleeve for the extra credit I am parting with yeah?
As at the time of writing this review, there were over 70 girls online and just over 3200 in total in the 'girls' section. The cam has great quality and even without an audio feed or broadcast cam, in some way you still get to have it all made up for because you get to preview what you are getting and also, there is an audio feed in VIP 1 on 1.
These girls also have their cam recordings, which you can browse through at any time. And before I forget, the site also has stunning videos. Yes, they do. With over 14000 picture galleries and 13000 videos, you have lots of contents on this site. You can get access to these media for however you want for an equal number of credits.
The site is technically free but you need to part with credits to get some of the premium features like the media, private chats and the VIP 1 on 1. Options for getting these credits include a 130/13-minute credit pack or a 230/23-minute credit pack.
In Few Words
The site is a great site with lots of contents to keep you busy even when your secret friend isn't online. You have the videos, photos, and even cam recordings. And don't forget, on here, there is always a girl that fits your taste.
Visit Secret Friends >>
---
Need to clear further doubts?
Have a look at some other SECRET FRIENDS tips on some other great porn review sites!
---