SEEMYGIRLFRIEND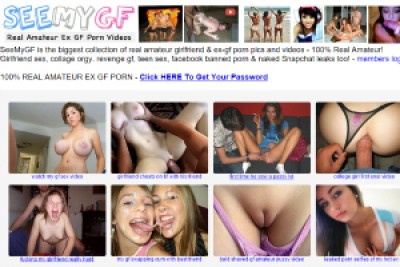 Overview
See My GF is, as the name says, one of the web's many amateur girlfriend sites. What makes this one different is that it has genuine amateur footage of fresh chicks working out their passions. The camera work may be shaky but the sex is not; it's raw, real and raunchy. If you've read this far it's because you, like me, love those cute amateurs doing their thing. Professional pornstars are great at what they do, no one would deny that, but for that extra buzz, the thrill that comes from knowing something isn't being acted, then you have to watch the wannabe stars in action. It took the phone cam and the world-wide-web to show us what our ancestors already knew, women are far more willing to engage in public sex than men.
This is one of the sites that proves it. It seems the world has thousands of hot fresh chicks just aching to get naked and screw everything from fingers, thumbs, tongues, toys, and cocks. Joining See My GF has you watching, in a matter of minutes, more than 250,000 images and over 10,000 videos of genuinely amateur fresh chicks playing with themselves, with their equally horny girlfriends, with boys and men, with toys, and sometimes with a number of different partners.
Site Content
Although SeeMyGF isn't listed as one of the members of the Gammae network, it is linked with them and by joining SeeMyGF you will get desirable special offers from Gammae from time to time. See My GF carries an RTA label, which means they self-label their content, helping parents filter age inappropriate material from being viewed on their home computing devices. As an additional barrier, although SeeMyGF's home page has explicit photos on it, to see the full content you have to join and that means providing proof you're an adult. Also, See My GF states that all the girls shown on the site were old enough to be photographed and filmed doing erotic sex acts at the time they were doing them.
Actresses & Video Quality
See My GF's girls are the girl next door that you've been longing to see undressed. In the main, they're creamy-complexioned cuties who're gagging for sex. They're so horny, they don't care where they are or who they're with, they want something filling them and they play it up for the camera so they can watch it again later and re-awaken the passion for another round. Fortunately for us, many of them wanted their sex movies available for us to enjoy. And we can watch them every day of the year, on our own screens, at our own convenience, and in the privacy of our own abodes.
No matter what kind of girl you like, blonde, brunette, redhead, raven-haired, modestly chested or generously racked, there will be more than you can handle among these eager beavers. This niche, of 'amateur girlfriends', is one where a lot of non-amateurs have piled into so it's great to find a site that is genuinely amateur. For me, this is one of the best kinds porn because of its reality, which isn't the 'reality' we see too often on mainstream TV's shows. This is chicks who look like people I know, having sex with other people who look like people I know. They're cute, adorable, fresh, full of mischief, full of fun, and full of naughtiness.
From the braces on their teeth and the curls in their hair to the flowery flip-flops on their feet, they're all girl and ready for a man. See My GF invites people to send them personal sex tapes and they also accept content from social media sites. What that means is we see girls masturbating to please themselves or the partners, we get to see lots of stripping and twerking, as well as couples filming themselves for fun. Don't be concerned that joining See My GF will leave you without your regular fix of all those hot sex shows you've been used to on professional sites because, when the couples perform, they want to emulate the pros they also watch on the web so we see plenty of blowjobs, vaginal and anal sex with creampies, facials and all the other happy, sticky results. Finally, in case you're worried about being tied to just one website, you can the cuties of 'See my GF' on social sites like Facebook, Twitter, Google+, Blogger, and Tumblr.
In Few Words
See My GF's suite of subscription options is designed to ensure you'll be able to find a way to make it fit into your budget. From their two-day trial at just one dollar ($1) to their one-month subscription, which is just under $25 you can't go wrong at prices this low. And once you've seen what See My GF has to offer, the ninety day membership at $19.93 a month (a total of $59.79 for the three months) and the full year membership at only $8.33 per month, or just under $100 for the total annual outlay, will tempt you to spend even more time with these fabulous fresh chicks and their partners.
Membership allows you unlimited downloads and a daily update so you really can't go wrong with even such a long-term commitment that keeps delivering. To register, you fill out an online form and pay with your credit card (EuroCard, MasterCard, Visa, or Diners Club are among the cards they accept). Payment is via a secure encrypted gateway that features discreetly described charges on your card statement. The site also has an alternative method of joining if you haven't got, or don't want to use, credit card. And, unlikely though it is to happen, the occurrence of a glitch is simply solved by contacting their customer support (in Canada and the USA).
Visit SeeMyGirlfriend >>