SHE'SGONNASQUIRT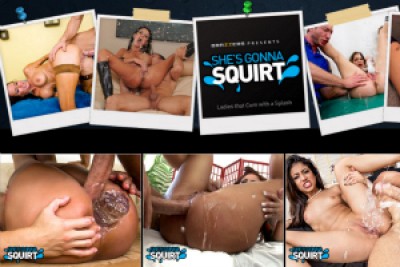 Overview
Watch out, she's going to squirt! The She's Gonna Squirt provides the collection of all ejaculating women of the Brazzers network. With more than ten years in the porn industry, Brazzers have a lot show, and some of their stars also have squirting pussies. These busty porn stars have their best poundings collected on She's Gonna Squirt. As part of one of the big-shot networks of the pornography world, She's Gonna Squirt provides HD and Full-HD videos, featuring well-recognized, established porn stars. There are no annoying, ugly ads around also because just like many professional sites, the Brazzers Network is maintaining itself from the membership subscriptions. As a member, you will get access not only to the actual site, but you can access other bonus sites too (up to 30). There are daily updates, on almost all sites of the network. You will be granted entrance into the world of hardcore porn. Brazzers is one of the most successful studios, and with over a decade behind its back, it can guarantee you the best possible quality, and an ever-growing collection. With the access to the Brazzers network, you will be able to fulfill all your desires, since almost all niches are covered on the sites. All movies are scripted; all have their setup and stories, each ending in some facial or creampie. You can see some fetish here and there, passionate couples fucking and there is a site dedicated to some really hard rough pounding. Professional and maximalist are the best two words to describe Brazzers. Well-built setups, good lighting and the best equipment are used on the shootings, and not just the pussies, but the equipment is handled by trained professionals. Brazzers is a well-recognized studio in the online porn world it has won many awards, and has countless nominations on the AVN and Xbiz Awards. You can be sure that you are receiving good quality since the Brazzers is not just one of the porn companies, but it's a juggernaut among them. Brazzers also received many awards, like the Best Adult Website in 2009, or the XBiz Award in the category Studio Site of the Year in 2014.
Site Content
The layout of the home page is pretty basic. You can find the button for member login and joining, and a lot of pictures, each linking to the video, which can be accessed only by members. The features of She's Gonna Squirt aren't many since it's focused only on female ejaculation, aka squirting. There are 95 scenes available for online streaming and downloading. The embedded video player is big and fast, you can watch Full-HD videos in your browser. It is also possible to save short clips. One of the coolest features that there is an option where they list the sex acts, so if you want to see only the squirting part, you can jump there. There are no download limits, so you can build your own library of squirting pussy videos saved in handy 1080p HD. All movies have a matching set of pictures for online viewing, and you can also download these high-resolution picture sets from the site, compressed in Zip format. The site is available through the mobile site of the Brazzers network, and you can watch every movie in HD on your mobile device, and it doesn't matter what kind of operating system is running on it. Squirting is a special ability of porn stars, not all of them are able to do it, since it requires a high level of excitement. Lucky for the Brazzers Network they have many squirting pussies employed, and there are actors hard and long enough to make them scream and squirt from pleasure. There are some other sites providing squirting pussies, but with a professional company behind it, the She's Gonna Squirt beats them all.
Actresses & Video Quality
All girls featuring in the videos are professional porn stars. They are known in the industry, since squirting is not an easy thing, and not all porn stars can do it. Female ejaculation requires some really hard pounding and a high level of sexual excitement. Because of this the scenes on the She's Gonna Squirt site are all the hardest of the hardcore porn. All models on the site are busty bastardly women, ranging from the freshest chicks to the hottest cougars. All 95+ scenes are featuring at least one female ejaculation, and even providing this amount is a big achievement itself. These squirts are not fakes; all of them are real, nasty pussy juice. The exclusive hardcore scenes are featuring the best actors of Brazzers, who like getting fucked so hard they unleash rivers cum all over the set. Squirting is a kind of dangerous, since the girls are not always able to stop it, and so the filming crew and the equipment can also get a good amount of juice.
In Few Words
All scenes have their short stories written, all have a little set up, but the action is quick and hard. In one scene there is Sophie Dee, who is working in the garage. Then someone gets a look under her hood, and then fun begins, and Sophie soon covers the guy with her cum. In real life, if you call the firemen with a false alarm, you need to pay. However if the fireman is Angelina Valentine, you won't pay with money, but with a good fuck, and as penalty you and your living room get wet by her squirting pussy.
Visit She'sGonnaSquirt >>