SILVERDADDYBFS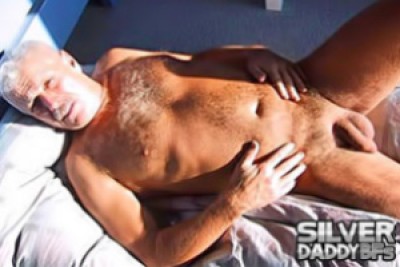 Overview
Some of the most amazing gay porn videos are offered by SilverDaddyBFs. They have a great collection of silver daddy and amateur bear videos as well as many more similar sites in the 429members network. They specialize in hairy men with gray hair fucking each other or teaching some fresh twinks a thing or two.
Site Content
The layout is as simple as it gets. The landing page is just screened of silver daddies galore and nothing else. You can make a first impression very fast about what type of men are featured on the site and what type of action you're in for. The website doesn't really have complex search features or filtering options. There is a basic search box in the top left corner and a few buttons like random, newest, live boyfriends etc. That can sort through a few of the videos and show you better results, if you happen to choose one of the options. Other than that, you can't select categories or too much on body type. If you want more than silver daddies, once you join you can see a list of other 429members sites. That will be displayed in the member's area on the left.
It's clear that this is one small fish in the big gay pond that is the 429members network. The lack of advanced sorting and variety in categories, only accentuates the silver daddy niche. It is after all what the site should be about. 23 more gay porn sites are made available for subscribers. This brings the total number of videos to above 7000, and more categories. There are no picture galleries on SilverDaddyBFs but there are live cams. This is way more entertaining than just steaming or browsing pictures. A one day trial with limited access is available, but the full access only comes with the 1 month or 3-month membership plans. This not only allows you to stream, download, live chat with silver foxes, but it also lets you do the same thing on any of the other 23 sites in the 429members network.
Actors & Video Quality
If you haven't guessed it already, you're in for a treat. Gray haired men are all the rage and they are well represented on SilverDaddyBFs, for the most part. While there are the occasional hairy men with black hair or some fresh blonde twinks hungry for sizeable dicks, almost every scene will feature silver daddies. These seasoned men are in pretty good shape and seem to enjoy doing everything from solo masturbation scenes to threesomes. I've seen some ripped dudes, so hung and sporting a crew cut silver hair, they really looked like the universal soldier. They're really the guys every girl or boy dreams about. Manly men, who like getting it on with other men.
I don't think I've seen much HD content. Although most of the scenes that are longer than 10 minutes feature multiple angles and maybe even some editing, it is amateur content to so expect low to above average quality of the videos. There are no pictures, but who really needs that. You should be logged in to see stuff happen or at least interact with the live models. And yes, I can call them models, because most of them are very fit. You can download or stream all the content with ease, and the formats are also compatible with most mobile devices. So, you can access the site from anywhere, anytime.
In Few Words
It is a great addition for a gay porn collection. You have soft-core and solo play as well as hardcore action with silver daddies and bears and a few twinks here and there. The site focuses on a single niche, so you don't have to waste time searching categories or body types. If you want gray hair, you'll find just that in seconds.
Visit Silver Daddy BFs >>