SINDRIVE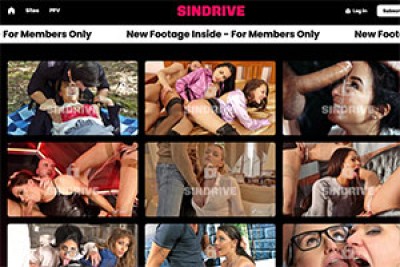 Overview
There is nothing sweeter than the forbidden fruit. Adam proved that when he could not be trusted in the Garden of Eden and the models on Sin Drive also prove it by making you part of a platform that knows no bounds or inhibitions in bodily pleasures. In Sin Drive every porn star knows what she wants and goes out of their comfort zone to get it. Sin Drive is called Sin Drive because it features stepmoms who are not afraid to bang their stepsons, stepdaughters who are cock-hungry for their step uncles and all other manner of compromising extended family sexual pleasure. However, this is not all you get.
The site also features scenes that showcase co-workers getting down and dirty in the office. It is safe to say that you will get a tad bit of everything on this adult platform. Sin Drive stands apart from other ordinary sites because of two main reasons; it offers content that is in 4k ultra HD and only enables you to enjoy the kinkiness of European models. At one point you may be watching two gorgeous girls getting sexy in a mad fight while the next moment may hold a scene that shows two other girls drinking each other's pee. The only thing that can limit you on this platform is only your imagination because all else is possible.
Gang bangs are also part of the equation and while you thought that you will only get minimal enjoyment here, you will appreciate Sin Drive for the effort that it puts forth in entertaining you. Sin Drive is a spicy treat that you will never forget. The undeniable quality of the content makes all the scenes easy on the eyes. Sin Drive is not any other ordinary site. In fact, the site does not generate its own content. The site could be confidently be referred to as a mega platform. Sin Drive takes epic hardcore scenes from the best adult sites on the virtual platform and gathers them all together as one. The status of the sites that outsource the action is irrelevant, the bottom line is simply that you will always get good enjoyment on Sin Drive itself.
Site Content
Sin Drive has a members' area that is definitely worth talking about. You will be happy to step into this world of lust and pleasure as there is so much in store for you. You will not know where to begin but slowly and surely, you will find an exciting starting point. The content is not exclusive but even so, it brings about the values of entertainment that an adult site is meant to give. The descriptions that accompany the high-quality scenes are quite long, telling you all that you need to know about what is going on in the flick.
The content categories feature blowjobs, anal sex, CPNM and big boobs among others. All of the videos are ultra HD 4k in quality, therefore, the site will always exceed your expectations. As the videos are outsourced from different platforms, Sin Drive does a good job of acknowledging the sites. There are only a minimal number of advertisements here and nothing will really get in the way of you tour. The best part about the site is the crystal clear flicks and nothing will be able to escape your naked eye. The tour is most definitely incredible.
Actresses & Video Quality
Sin Drive is made up of the most talented porn stars who enjoy hardcore fucking more than they love their own lives. They enjoy playing with their nookies while calling that out all sorts of names in pleasure. There is so much that you will enjoy about this adult site that you will reconsider your membership on other porn sites. As you would expect, all of the women are more refined and polished than what you ordinarily would see on other platforms. As the flicks are centered towards aspects of temptation. It is almost as if the porn stars have a thing for latex suits as they show off her bodies in the sexiest later suits that they could find.
Depending on the porn star that you love, you will either see her satisfying herself, getting down or dirty in group thick or even taking part in lesbian sexual encounters. They are not afraid to take sexuality and pleasure by the horns. With every move that they make, you will thoroughly appreciate the site for its good quality of picking only the best. The porn stars are able to bring any house down and make you go wild with lust and desire. All off the models are hell-fire hot; Sin Drive definitely knows how to pick and choose. In the flick 'Piss and Fist', you will get to see two lesbians doing the nasty for the purpose of pleasure. They are rubbing clits, seeking, licking and fisting. When one of them is at climax she squirts like you have never seen before. Moments like these are what solidifies the action on this platform.
In Few Words
Sin Drive is a porn site that truly lives up to its name. The site showcases the elite and powerful wanting to get naughty with porn stars who play hard to get but eventually give in, the combination of softcore and hardcore action is one of a kind. There are no downfalls in the provision of content. This is not the 'wham-bam-thank you ma'am' kind of sex that you will be watching here, instead, these porn stars will pull on all of your horny strings in the right way.
Visit Sindrive >>
---
Need to clear further doubts?
Have a look at some other SINDRIVE tips on some other great porn review sites!
---