SLAVEMOUTH
Overview
Awesome deepthroat porn site, SlaveMouth gives you glamorous and beautiful models who are being disgraced mercilessly through intense face and mouth fucking! There's nothing sensual about the oral sex scenes so you might want to prep yourself if you're not really into BDSM porn. This collection is a standalone project so the size of the library is understandable. However, SlaveMouth's greatest asset is the quality of the movies, from the talented girls who fully embrace their submissive and helpless roles to the twist being added by the main actor in face-fucking scenarios. For instance, one girl has a sponge tied to her face and she was ordered to clean the floor before sucking a huge dick.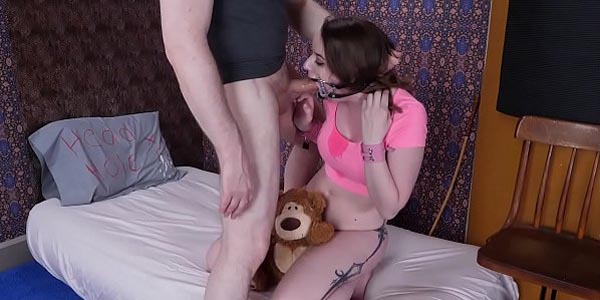 Site Content
SlaveMouth is an independent porn collection. It doesn't boast a huge team of professional web experts and production crew, however, you would still appreciate the efforts of the creator to give you a satisfying online experience. The official website is simple in every aspect. There's a blog-like layout and you can easily browse the videos and stream them directly. There's a basic search engine and a Model Index as well. Brief descriptions are available for the videos and there are also attached tags. The video caps are also generous and they provide you with an insight about what to expect. There is also a clickable link to watch the full videos, however, when you click on it, you will be redirected to a registration page. Notably, SlaveMouth offers a regular and premium membership. When you go subscribe to the regular package, you will be able to stream and download videos up to 1920×1080 resolutions. Meanwhile, the premium membership allows you to enjoy the videos in ultra 4K.
Actresses & Video Quality
You'll never run out of blowjobs and deepthroat videos on the Internet. However, it's only fair to say that most of these porn sites make you believe you'll see intense hardcore content, but then you'll get disappointed because the actions are obviously staged. Fortunately, you don't need to count on empty promises anymore! At SlaveMouth, the amateur models are taking the degrading and challenging tasks for real! It's really more than just your run-off-the-mill face-fucking community. The glamorous girls are often left with their mascaras and makeup running down their pretty faces, blending with cumshots and other liquids. You'll even see real tears! The porn director clearly has no mercy or remorse and everything ends with the lovely girls having the most humiliating moment of their lives!
In Few Words
If you are a fan of BDSM movies that show no mercy for submissive performers, then you would surely love SlaveMouth. The oral sex scenes are so intense that you would surely worry about the safety of the girls. However, even if you see tears on their pretty faces, you will also see in their eyes that they are enjoying the degradation moments, especially when they got their much-anticipated facials and cumshots.
Visit SlaveMouth >>
---