SORORITYSLUTS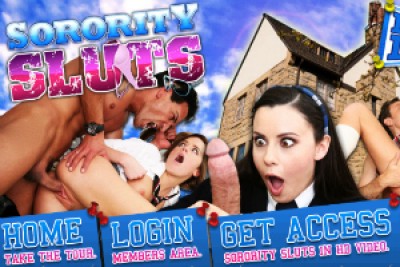 Overview
Presenting to you SororitySluts, a porn site that is exclusively designed to unveil what goes on inside a sorority house. Sorority house stories are some of the most popular ones that we have all heard about, and the girls in there are equally famous for their sexcapades duties to prove their loyalty to their houses. Now, you will get a first-hand viewing experience, thanks to SororitySluts, as they show you what the girls get up to behind closed doors, and man, you are going to love what you see! So, be sure to read our review and join this site.
Site Content
This porn site has one of the best layouts and designs we have seen in an extremely long time. The makers wanted to give this entire site a very amateur-like feel to it and they have very successfully managed to achieve this. The porn site is filled with images of naked girls and at no point when you're scrolling through will you not find a sexy chick. They have used the colour white primarily (as the background) as well as blue, which really stands out against the white and doesn't distract your focus away from the main content. Their tour page is fun looking and will genuinely give you a feeling of a sorority house. There are shades of grey, black for the text, green chalkboard, and pink highlighting text to attract your attention to the site.
The banner at the top gives you a feel of what to expect, with hard dicks, naked sluts getting fucked to give you company. There are the usual links to various pages, such as Home, Members' Area, Get Access and More Sluts. Overall, the site has an amazing design and layout! Okay, now before we speak about the girls on this porn site, let us first get to the technical aspects. We must say that we are quite impressed with what we got to see. The porn content they have accumulated is simply fantastic.
Actresses & Video Quality
Let us move on to the most awaited and most interesting part of this review that you have been very patiently waiting for. Yes, you guessed it, time to describe the outstandingly hot chicks on this porn site. You are going to be in for a serious treat once you get to see what is in store for you on this amazing webpage. To begin with, let us tell you that every girl that you will see featured in each one of these videos is an amateur. The makers of this porn site have worked hard to line up some of the hottest and sexiest amateur girls for your viewing pleasure. These girls will make your cock go from flaccid to rock hard in a matter of seconds.
We went through a lot of the videos that are available to all the subscribers and we found that every single one of the women are ridiculously hot and gorgeous. They really sizzle up the screen every time they strip off their clothes, revealing the true secrets to sexual satisfaction underneath, and let us tell you that these girls will do absolutely anything and everything in front of the camera to ensure that the viewers are experiencing a sexual pleasure like many have not felt before. These girls get down and dirty for their man, and this porn site has got every kind of girl you could possibly imagine. They have the sexy blondes, the sultry brunettes, some cute Asians and some sexy ebony chicks.
This porn site will for sure become your one stop location for all your porn needs and since the porn site is called SororitySluts, you bet your ass that everything here you will get to watch is in a sorority. Sorority girls are always known to be some of the hottest chicks ever and the mystery of what really goes on there is a serious turn on. We have all heard those kinky and naughty stories but sadly, have never had the opportunity to watch any of these girls in action. Thankfully, with the help of SororitySluts, we will get to see everything that happens inside a sorority house, and man, you are really going to have a raging boner once you see what is happening there.
All these girls, who are at the prime of their sexuality, really turn up the heat inside these houses. These girls eagerly do anything and everything when it comes to sex, but it is not just men they have sex with, these girls also experiment with other girls in the sorority house, craving to push their sexual boundaries. There is some very sexy girl on girl action. As well as this, these girls will sneak out in the middle of the night to get themselves some hard pounding and every single one of these girls, by the way, have the most amazing bodies you will probably have the pleasure of seeing in a long time. Their bodies are slender and shapely with the perkiest of boobs along with the tightest pussies possible. You are really going to love what you see and come back hungering for more.
In Few Words
Now you must admit, that this probably is one of the most amazing porn sites you have come across in a while! Where else will you get such stunning quality videos as well as such a vast quantity! Add to this, their awesome service and the hot and sexy line up of girls that these guys have in their arsenal! You are really going to be spoilt for choice when you get to see all the porn models along with the number of videos and if you still want more, then you will love what you're going to hear next. Long-term membership will give you awesome savings, and access to all Hustler's sites, numbering about 20. Now, isn't this the deal of a lifetime. So, go ahead, join and take advantage of it!
Visit Sorority Sluts >>
---
Need to clear further doubts?
Have a look at some other SORORITY SLUTS tips on some other great porn review sites!
---