SPERMCOCKTAIL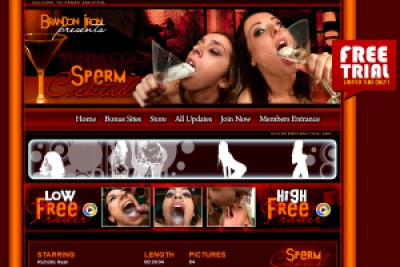 Overview
Sperm Cocktail is all about hot women drinking lots of cum, sometimes from bowls and glasses that guys have filled with their jizz, and sometimes directly into the girls' mouths form huge stiff dicks. There is plenty of gangbang action, and all of the girls are professional pornstars, so they have great bodies and cute faces, whether they are open-mouthed and waiting for action or covered in semen.
Site Content
Navigation of the website is easy enough, with categorized options for different niches in addition to the main content, which generally consists of gangbang-style scenes involving groups of horny guys and hot pornstars on the receiving end. You have the option of watching and downloading the full-length videos as well as photos of the same action. And as well as the video and photo content, there are links to a Live Chat area and a selection of porn DVDs courtesy of the website's store section. One of the things I particularly like about the site is actually the mobile-phone version, which comes free with your membership.
Actresses & Video Quality
Another thing about the site that I love is the option to browse not just by category or length and date of upload, etc. but also by pornstar. The pornstar filter can be adapted to include results according to gender, ethnicity, nationality, and popularity results. There are an amazing 13,000 results available according to the site, although you need to remember that the displayed numbers refer not just to those on Sperm Cocktail, but across the entire network of sites that are available with a subscription to the Pornstar Network that governs Sperm Cocktail. The pornstar section includes an option to view all pornstars on the list or to jump directly to any specific letter of the alphabet to find your desired girl quicker. Once on the selected pornstar page, you then have the option of the star's videos, picture sets and DVD appearances from the store.
As with the websites main content, videos can be downloaded in a number of different file sizes depending on the video and the site it relates to, in different formats, such as mp4, AVI, and WMV. The average length of the videos on the site is around 20 minutes, and photo sets can range from 20–30 photos up to 100 or sometimes more. You can download complete photo sets in zip files, which is yet another bonus from the site. All videos seem to be of a high quality, with most of the content advertised as exclusive. Although I have seen quite a few of the videos on the Internet before, with the number of bonus sites included in the membership, that doesn't necessarily dispute the porn network's claim.
One thing I would like to see more of on the site are the photo sets. Sperm Cocktail only has 44 available collections and with no updates over a long period of time, it's a case of browsing the other sites on the network to find more photo options. However, in general, Sperm Cocktail gets a big thumbs-up from me. It provides good picture and video quality, a choice of video formats from which to download, some fairly exclusive content and great search filtering options. Membership packages are broken down into monthly, three-monthly and year-long packages, with the option of a limited trial period to check out what the site has to offer. As part of the subscription, members receive access to all the niche websites that make up the Pornstar Network, so it works out as pretty good value for money.
In Few Words
Sperm Cocktail is a great choice if you get off on great-looking pornstars being gangbanged Bukkake style in hardcore sex videos. There is a lot of bonus material accessible through sister sites that form part of the membership packages, but don't expect a lot of updates. However, there should be enough material here to satisfy your needs for quite a while!
Visit Sperm Cocktail >>