STEPLESBIANS
Overview
Best lesbian porn site, Step Lesbians allows you to enjoy a great mix of taboo and lesbian actions. Presenting an exclusive collection of high-quality porn movies in the kingdom, you would definitely fall in love with this site all at once. The stories revolve around slutty stepsisters who just can't resist the charm of each other. Instead of getting irritated by their new situation, the models inside have found a delicious way to accept their new living set-up. Head on inside their naughty haven and feast your eyes and cock on the hottest lesbian encounters ever!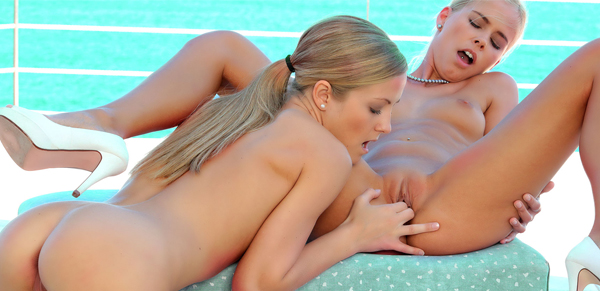 Site Content
Presented in a modern website, you would love the ease of browsing the high-quality collection of Step Lesbians. The white and black color combination makes everything look cleaner and more organized. The images of naked lesbians blend perfectly with the exotic backdrop. Even within seconds, the beauty and sex appeal of the models would surely catch your full attention.
As a guest, you can check out a good number of high-resolution images. There are models shown in full nakedness while the others will tease you with their skimpy clothes. The scenes are mostly taken indoors, inside the bedrooms or the living rooms. Well, these sweethearts have to accept the fact that they are now stepsisters and they are expected to obey their parents. Well, they are told to love each other like family and guess what? They did what they are told and even surpassed the expectations of their unsuspecting parents. Once these chicks found themselves alone, expect that something wet, wild and naughty will happen.
There are trailers on the homepage if you want to take a quick glimpse of the actions. Even for just a minute, you would find that everyone in this community is dedicated to giving you the best lesbian movies ever. The scenes are filled with passion and the intensity of the actions will have gripping at the edge of your seat!
Actresses & Video Quality
These lesbians have to leave under one roof because their parents decided to marry each other. Being at the most curious stage of their lives, instead of looking for cocks to satisfy them, their lust falls on their gorgeous stepsisters. Well, why not? From stripteasing to cat fights, tit sucking, and pussy fingering and down to dildo fucking, these lesbian stepsisters will have you holding your breath from sexual excitement! Averagely, the movies run for as long as thirty minutes. Even the stories will keep you interested from start to finish. If you want to stream the movies online, you can do as you wish. There is an option to download them too. But first, you need to be a member.
In Few Words
Step Lesbians is one of the greatest porn sites to go if you want to see all kinds of tits and pussies. The models have diverse background and ethnicity and their differences just made the scenes even more interesting. They have unrivaled passion when it comes to engaging in pussy to pussy action and they are also experimental when it comes to using dildos and sex toys. If this niche is your kind of porn, then don't let the models wait for you any longer!
Visit Step Lesbians >>
---
Need to clear further doubts?
Have a look at some other STEP LESBIANS tips on some other great porn review sites!
---