SUEFORBLACK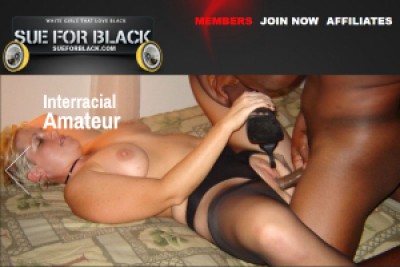 Overview
Have you ever read a fuck dairy or a sex diary before? Well, you should be because it is healthy. This is SueForBlack porn site where you can see, read, and view all the things a horn dog dude can do with his girlfriends. The site is pretty much educational as well for those of you who have a poor sex life. See this dude as he hammers and rams away his white chicks in action. There will be lots of squealing, moaning, and shouting. Well, obviously this dude got the dick. What can I say his dick needs to feed and he likes white MILF and BBWs. Well, let's have a quick look with his fuck diary, shall we?
Site Content
By just entering the site, well it gives me the idea of how does it feel to read a dude's sex journal. The intro is nice and the materials included mentioned a bit of himself and more of the fuck situation he encountered along his sex journey. The dude is actually huge with a big cock as well as he shares his most intimate and sophisticated sex. Sue is a man of action and he speaks no words and lets his dick do the talking. The site features interracial fuck actions that you will certainly love. There will be blowjobs, ass jobs, foot jobs, ass fuck actions and skin to skin pussy to cock ram actions. This dude is a fuck machine and he can hammer away as many chicks as he wants.
Well, he really did a good job hammering his girls and there will be a lot more when exploring the site a bit more.
There are over than 100 videos to watch through streaming and download. You can use Windows Media, MP4, QuickTime, Flash and the site has no DRM restriction. Enjoy pure dick to pussy, man to woman actions as this dude will fuck his bitches like there are no tomorrows. Oh, by the way, I never mentioned that sue is a big black dude. So there you are well he is. He's a mean, big fuck machine that will do anything for fuck pleasure sakes. See him together with his girlfriends from one on one, threesomes and groupies actions. Well, there are 4 girls together with him in a room as they go wild and crazy so I guess that you can call that groupie right? You can download these videos and boast them to your friends and make these as collections of your own.
As for the images, well there are lots of images if you asked me. There are over than 100 galleries available and each has over than a hundred pictures. Well, most of these pictures are poses and fuck scenes. There are lots of pussies and big asses as well so feel free and enjoy watching the show. You can learn something with this dude and he really does know how to pleasure these big white BBW and MILFs. You can download these and enjoy more perks when you become a member.
Actresses & Video Quality
Sue really got the life here I mean his sex life is pretty awesome. He can hit a white BBW and then he will hit another MILF at the next door. Well, how cool is that, well, actually, this guy is like a horse that could not control his dick off. I can tell you from here that he can really make girls moans, and squirts really fast indeed. While, when it comes to his dick, well I think the girls will have to hang on for a moment because this dude does not prefer to unload his jizz that quick. He makes sure that you as a bitch who I longing of having a good sex will gonna get it for good.
There are many fucks scenes that you may want to look and by all means, you can try that with your hoe. Anyway, I like seeing the actions with him and his girl named Tiffany. Well, this Tiffany right here is a big white mama who is longing of having a good sex. So, who is Sue not to take the request. So, what he did is making sure that this BBW white bitchy hoe will love every inch of his dick. There will be a cock sucking puss hammering, rams the asses at almost everything under the sun. This white BBW with squeals and moans like a bitchy pig because for pleasure. It is nasty, it is fun and entertaining as well. On the top of that, Sue spewed his juices at her mouth for good.
In Few Words
Imagine a horn dog friend like Sue who lets his fuck journal to be read by you and allows his private sex videos to be watched. Now how cool is that? Sue is like a mentor that will show you how awesome he can be in bed. All in all, the site gives me the feeling of watching my porn dude idol in action as he pounds and rams those big mamas; pussies. It is good seeing an ebony and a bunch of ivories get along with each other for fun and fuck pleasure.
This website is offline, if you like interracial sex take a look at Dogfart!