SUPERGLAMBABES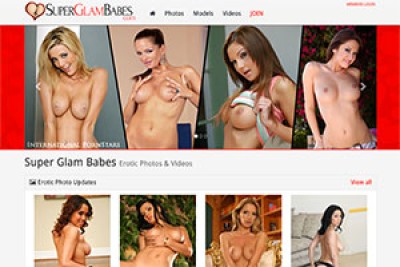 Overview
SuperGlamBabes presents you with soft porn content you will love to watch as you recline on your bed after a hard day's job. You get to see plenty of hot girls posing for the camera while nude. SuperGlamBabes is about nudity. There isn't much hardcore sex action but you get plenty of entertainment from viewing these spectacularly created beauties posing nude and allowing their mounds and even cherries to be captured with all detail, and viewed in HD quality videos.
Site Content
The site is largely portrayed against a white background. Their home page greets you with some nicely organized categories. You can quickly see the services on offer immediately you land. There are captions of the glamour girls showing off their beautiful bodies in slide shows and some thumbnail photos. I loved the feel you get when you view the girls in rare and stylish presentations. There are other links to direct you to various sections on the site. Navigation is, therefore made easy with the various browsing options on the cards. Although I did not see a search tool, I made my way around quite easily. The fact that the movies can also be resized directly on the site added some friendly user experience for me. The content can be streamed or downloaded to a range of mobile devices. I could access the site in my car while stuck in traffic or during breaks at my work place. There are no bonus sites on offer, or even live cam shows but the content is sufficient to keep you entertained for many hours. Anyone would love the design and layout on this site.
Actresses & Video Quality
All the girls featured are glamour models from Europe. You get to see some of Europe's best star models with a range of features. There many blondes with tight boobs and long necks. Many of them sport the perfect size for a beauty pageant. Similarly, if you have a thing for girls with large boobs, try SuperGlamBabes. There are many solo scenes in which the site features the, largely, photo content that they seek to sell. However, I discovered that there is some more spice added in the form of lesbian scenes in which the girls can be seen in hot steamy encounters as they finger and flip each other's nips and clits. I loved the warmth and tenderness in the lesbian videos I was able to savor. There is plenty of sharing sex toys too. The girls are captured as they insert dildos into their pussies. There are scenes in which they play with toys until they explode in orgasms and their partners sink the toys deeper in their vaginas. I loved to watch the likes of Nikki Benz and Sandra shine as they show their goodies in crisp clear form. The pornstars are celebrated personalities that add the real image of glamour to the content on the site. The content is original. I loved the feel I got from the fact that all that I was provided with was exclusive stuff.
In Few Words
SuperGlamBabes presents one of the hottest collections of glamour girls in the nude and some in real sex action that leaves you wet below the belt. The quality of the videos is top notch stuff. Although it is a largely photo site, the fact that they throw in a few sexy hot videos completes all that you need on a site like this one.
Visit SuperGlamBabes >>