SWEETCUMGIRL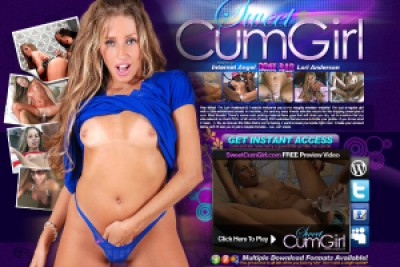 Overview
Lori Anderson. Maybe you'll wonder: Lori, what? The Same Anderson from Pamela Anderson? Not really. But this woman is so hot that surely if she was Pamela's sister, I would fuck her mom too because this woman will surely cause a fire in your underwear. Do you want to know more about her? Read this review.
Site Content
When visiting for the first time SweetCumGirl I was not very impressed with the design. The truth is quite simple, without much to tell about it. Purple color in the letters of titles and descriptions on a dark gray background. I really cannot think of anything more about the body of this website. Remember the song "Take my breath away" from Berlin? That's what will happen to you exactly when your eyes set their attention to the main banner of the page where Lori appears pretty horny playing with her pussy. Maybe she had a little itch and she was just scratching. Well, I really don't know what happened, the truth is that I felt like I wanted to touch myself too.
The image gallery is quite explicit. I think Lori has eaten a few cocks in her neighborhood. So, if you live near her it is very likely that one lucky day she will eat yours too. I think I'll ask for her address and move to her neighborhood. At the bottom of the website, you will see a long gallery of photos and videos with the most elementary titles, which will surely have been written by a preschool student. Pee in the Park, that's one of the names. I think Lori should visit a doctor, she might be suffering from incontinence. Well, who cares what comes out from that vagina, what's important is what comes in and in fact, a lot of things have entered down there. This website is mobile-ready, responsive and well optimized for use on any mobile devices, including smartphones and tablets of any kind.
Actresses & Video Quality
Lori Anderson. In my opinion, she should be hired in Brazzers or Naughty America. I would even be willing to pay anything to see this beauty in a lesbian sex scene with Lisa Ann. Anyone who supports my suggestion, please like this review. Perfect ass without stretch marks or cellulite, moderate size tits, tanned skin and long blonde hair. These are the attributes that perfectly describe this true slut. She will be willing to share with all her fans her darkest secrets and indeed there are many, since her gallery of sins captured on video is huge. For sure, Donald Trump would die for grabbing her by the pussy. Who would not? I would not just grab her pussy, I would nail her pussy and make her suck my cock. Oh god, I think I'm about to cum. Oh Yeah!
In Few Words
SweetCumGirl or, as I would call it, "Lori's Anatomy". If you already knew Lori and now you're hooked to her, don't worry, everybody has suffered about the same. The solution is to get a membership. Lori will surely know how to reward you.
Visit Sweet Cum Girl >>
---
Need to clear further doubts?
Have a look at some other SWEET CUM GIRL tips on some other great porn review sites!
---