TEENAGETRYOUTS
Overview
Top HD hardcore porn site, TeenageTryouts gives you the most daring newbies in the xxx industry who are very keen to show off what they've got under their sleeve! The name of the collection sounds as if you are about to witness some cheerleading auditions, right? However, it's way hotter and more exciting than that! The pretty and skinny girls in this community are trying to impress award-winning porn actor Dan Ferrari and his wife, no other than the adult film director and producer Suzanne Ferrari. Dan tests the skills of the girls when it comes to oral sex and hardcore fucking while Suzanne films everything on her camera, all approving and with that unparalleled enthusiasm of a cuckquean!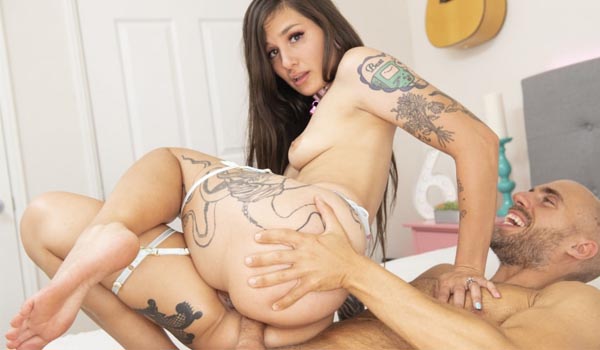 Site Content
TeenageTryouts is a Full Porn Network production so expect to see a premium and user-friendly channel. It does not offer a large library at the moment, however, the membership perks allow you free access to hundreds of high-quality videos from the network's other projects, and so joining as a member is always a win-win. Notably, you'll land in the general members' area of the network and will be greeted by a few adverts of the ongoing offers and discounts. You can easily close them if you are not interested anyway.
Once you have closed the pop-up adverts, you'll find a generous display of the hottest scenes from different channels. Of course, you initially came for TeenageTryouts so you ought to see its videos first. Just look for the channels page and click TeenageTryouts. In an instant, you'll see the selections of the site's latest and most popular scenes. The videos are well-supplemented with helpful browsing details such as huge thumbnails, automatic previews, titles, publication dates, scene summaries or descriptions, and your viewing options for streaming and downloads. Notably, when you clicked on a particular scene, you'd even get a list of related scenes as well as links to some live cams.
Actresses & Video Quality
Dan and Suzanne Ferrari definitely have an unorthodox but exciting sexual relationship. They are very expressive when it comes to their love for each other, however, they have a unique way of spicing up their already long marriage. Suzanne gets immense satisfaction from the sight of her husband fucking other gorgeous women. From time to time, she leaves her place behind the camera and joins the fun, which only means you'll also get threesome videos. Dan, on the other hand, is a very horny and generous lover and he wants to please all the girls that come to his bed while satisfying her wife's cuckquean fetishes. At TeenageTryouts, you'll find Suzanne bringing home fresh-faced porn models and filming them while his husband finds out what the girls are willing to do just to get porn stardom.
In Few Words
Are you keen to know how great porn stars are made? At TeenageTryouts, you'll see the most promising porn models getting prepped by Dan and Suzanne Ferrari. Suzanne, with her extensive experience in casting and adult film directing, knows where to look for amateur sweethearts who have the potential of making it big in the porn kingdom. Someday. Dan, on the other hand, is the one who actually tests the skills of the promising candidates when it comes to hardcore fucking. Everything on this porn site looks perfect so make sure to include this in the list of your must-see porn collections!
Visit TeenageTryouts >>
---