TEENPORNOPASS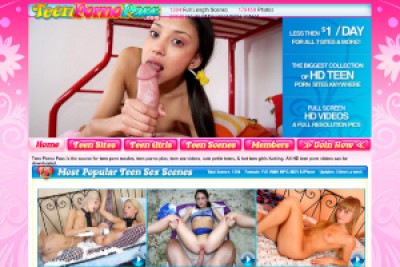 Overview
TeenPornoPass is an amazing network of Amateur Porn sites that focuses on giving you the best hardcore sex scenes featuring the cutest girls around. TeenPornoPass gathers in one place all the best hardcore sites you can imagine. You will never have to go looking through endless sites until you find one worthy of your money, TeenPornoPass gives you seven! Seven sites that you can start enjoying right away.
Site Content
TeenPornoPass is an amazing site. That statement is not an exaggeration. When you are able to create an interface that allows the users to move seamless through seven sites full of amazing content, you know you have done something good. Both developers and designers have created an achievement in web design. Jumping from site to site is just really easy; no one will ever feel confused about where to go or what to do in order to get access to all sites. The menus are displayed in the best possible way, so that your eye never misses them from view. Even when having to juggle with seven sites, the look of the site never becomes overwhelming or too much packed; instead, the site remains simple and fun to look at.
All sites feature comment section and ratings. You can use these features to interact with other users and give useful feedback to the site managers about what to do to improve the site and bring a better experience for everyone. All sites also include a fabulous download manager so that you can schedule your downloads, according to your timetable, and always have your content ready to watch, without waiting for it. You can also get all these same features and tool when accessing the sites through your mobile phone or tablet. You just need to be running on; Android, iOS or Windows and you will be ready to go. It is amazing.
Actresses & Video Quality
There are more than 585 models through all sites. Most models are amateur looking, with innocent faces and wonderful personalities. Do not let them fool you; they are true whores, all ready to fuck without limits. The site features sites like CheerleaderFacials, BabysitterMovies, Girls Left Alone and TeenLesbian Land. All these sites have an amazing quantity of hardcore content with impressive production values. Most models are white and their body types range from slim to average.
There are more than 1,400 scenes in all. That is one impressive number that will only keep increasing with time, because every week there is a massive update that brings new videos and images. All videos are available in gorgeous Full HD video resolution, the best in the market. Each scene also has an average running time of 30 minutes, making the size of the content be countless hours of fun.
You can download all videos in the form of the standard MP4 video file, or you can also stream the videos in your browser by using the built-in media player. Stream quality is great and loading times are quite fast. How much will you pay for such an amount of content? Do not worry; you will not have to pay a lot. The monthly, 3 months and yearly subscriptions are all quite cheap and they are well worthy of your money. We are talking of seven sites for the price of one. There is not a better deal out there.
In Few Words
TeenPornoPass is the best compilation of amateur porn sites you will ever see. All seven sites are filled with thousands of hardcore scenes that look and sound amazing. The girls are beautiful and all content updates constantly. What are you waiting for? The price is one hell of a deal, do not miss it.
Visit TeenPornoPass >>
---
Need to clear further doubts?
Have a look at some other TEENPORNOPASS tips on some other great porn review sites!
---