TEENSOFTOKYO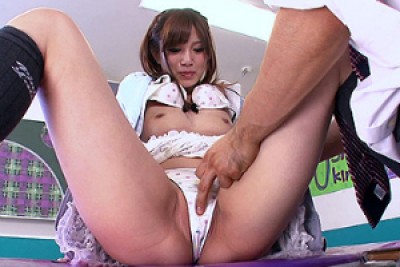 Overview
Ever imagined what do Japanese girls do after they are done with their classes or home-work? Well, the TeensOfTokyo presents you videos which feature your fantasies. The original and authentic Japanese porn videos here are going to be satisfying, arousing and terribly sexy. In case you have a thing for Japanese models, you can live out your fantasies, since apart from the site's own collection, you can enjoy a lot more. The intro promises of the TeensOfTokyo make it evident that there is something really hot and neat waiting for you. Though the site has a big Western company behind it, you will actually find real Japanese porn videos, originating from factual Japanese adult video DVDs. This site has been around for over 2 years now, and thanks to the weekly updates, it accumulated a considerable collection. During the time of this review (at the end of 2015), the site offers over 100 videos, with an average length of 20 minutes. Some of the scenes add up to a full DVD, but in most cases the updates are randomized, and you might have to wait for the next scene from a DVD. As far as online publishing is concerned, the videos here are exclusive, though they are available as physical DVDs… in Japan. The TeensOfTokyo is a site of the Erito network, and by joining, you get access to the other sites. The included network pages feature more hardcore sex: there are MILFs, AV Stars and a site dedicated to Japanese cosplay sex. Extra bonuses are also available: a large collection of DVDs are also there to browse, offering you more than 2,000 titles.
Site Content
Taking a tour on the TeensOfTokyo will be much shorter than taking a walk in the park. Under the banner and the main menu, they throw you into the middle of sweetness. Large thumbnails in three columns are listed, and they feature really juicy moments from the videos. You shouldn't try your luck with the menu, all options take you to the joining page. However the teasing on the site is quite enough to decide if you are interested or not. If you are, then let's head into the members' zone. Once you are in, you may notice that the layout hardly changes, though you arrive to the center of the Erito network. You can perform network-wide actions, and it's quite easy to change the site you browse. There is a search engine and a Categories menu to help you get closer to the videos that cover your favorite niches or AV Idols. All Erito sites are streaming-only portals, so the videos of the TeensOfTokyo are available in a streamed format. However, you can enjoy them in the best possible quality: an HD FLV stream is played through the embedded player. There aren't much lagging, and apart from the initializing, the playback is overall smooth. The TeensOfTokyo isn't offering you any photos, so if you are interested in a video, you should play it then jump in it.
Actresses & Video Quality
The TeensOfTokyo have a great compilation, but the best thing about the videos here is the fact that there are some really cute girls in them. As you might expect, there is no such thing present as ethnic variety; this site is dedicated to those who have a thing for Japanese girls. In case you are in that circle, you will probably feel really lucky for founding this site, since these cuties are amazing, and the nasty things they do are simply hot. Now these are not amateurs. In Japan, if you've come to the adult age, you can start doing porn videos… or adult videos as they call them. The Japanese porn stars are referred to as Adult Video Idols (AV Idols) and they have a different standing that their western counterparts: doing porn is still a bit of taboo, but it's not such a big deal as in the Western societies. The AV Idols here are usually come from the age range of 19-25, so they are really hot and tight girls. As you will see they all have their natural equipment on their body, and those uniforms with the skirt-blouse combo look really sexy on them. Since we all have stereotypes concerning the Japanese girls, the porn industry usually try to deepen these fixed ideas in our heads and make it just stuck in our heads. This method is present in these videos too: the girls are usually wear uniforms of educational institutes, and they are mostly doing the nasty wearing those clothes; or in room of those institutes. We have a picture in our mind about Japanese girls: short skirt, tight blouse and high-pitched voice during sex. And you know what? You get exactly that! Though the girls are different and the sex is varied, you will see that your fantasies are just covered and your imaginations comes to life in these scenes.
In Few Words
The TeensOfTokyo is a satisfying porn site with cute girls, a good collection and with some issues they should resolve soon. Some folks usually make a big fuss because they can't download videos, but in fact, that's not always a good idea… especially if you share your machine with others. But the navigation is quite good, the model index is easily usable; in case you consider the good thing against the few negative aspects, the TeensOfTokyo prevails as a recommended and exciting site. Those who are looking for real Japanese porn shouldn't go further, because the site and the network are great sources for that.
This site has been closed, check out more great Asian adult sites on this best Asian porn sites collection.