THEYDIDNTKNOW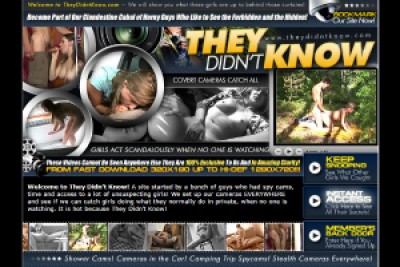 Overview
Being able to look when you should not, it's one of the hottest things in the world. Especially when what you are watching is a hot couple having some real hardcore sex. "They Didn't Know!" is a brand new porn site, filled with prime content, where you will see these hot couples having sex, when they do not even know they are being filmed. It is as hot as you are imagining. Welcome to your new favorite porn site.
Site Content
"They Didn't Know!" is one of the best working sites I have ever had the pleasure of reviewing. From the moment you visit for the first time, it is clear that the developers and designers of the site have put a lot of hard work by making it not only functional but also efficient. "They Didn't Know!" has a very efficacious interface that will allow the user to navigate the website with ease.
There are no slow loading times, useless links or superfluous menus. Every part and of the website has a function and it is such a beautiful sight to finally find a website that looks and works great. The site has also been optimized to be mobile friendly. Thanks to this optimization, you will be able to access the content on the go. Operating systems like; Android, iOS and Windows are all supported.
Actresses & Video Quality
What you will find in "They Didn't Know!" is something you will not find anywhere else. This is 100% exclusive content of the greatest quality, just for you. We are talking about Spy Cams located in some of the most incredible places: cams in the forest, cams in the shower, in the bathroom, in the bedrooms. All these wonderful secret cams will capture the hottest and real sex encounters you have ever seen. Girls will mostly be on the slim body type side and they all have that amateur look on them.
These cams might be few, that is for sure, and secretive enough that none of the participants will see that they are doing it on camera. But their compact size does not mean the quality will be anything but stellar. Most videos will be available to you in gorgeous Full HD 720p image resolution. So that you do not miss a detail from these sex sessions. There are also thousands and thousands of more videos in DVD quality. Only the best for your hard earned money.
There are more than 44 exclusive videos right now on the site, and they are all available in the WMV video format, which is very capable of being played on most media devices. The image galleries are also more than 44. Each gallery includes around 70 high-quality pictures, and they can all be downloaded as a zip file.
You will be granted unlimited access to the whole "They Didn't Know!" collection and you will be able to download as much as you like. Download speeds are fantastic; you will not be waiting too long between video and video.
In Few Words
"They Didn't Know!" is a fantastic site for all of those out there who want to see real and raw sexual encounters! The price of admission is incredible, join now! Do not think it twice.
This website doesn't exist anymore, take a look at TeenMegaWorld.