TIGHTANDTEEN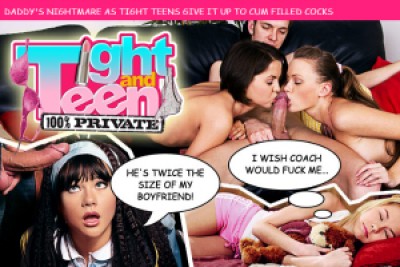 Overview
TightandTeen is a porn site that cries out loud just from the name itself. It introduces quite a number of ladies, mostly hailing from different parts of Europe. These ladies are mostly fresh, but these girls aren't only fresh, they are beautiful, sexy, and quite horny. Just as the name of the site implies, these budding and blossoming ladies have the tightest pussies you will ever see. It'll clench right through you, just like how it clenches cocks. On the other hand, the feats and deeds you'll be witnessing in this porn site isn't entirely obvious when you read the title, it's actually pretty hardcore and much more than you imagine. These ladies will do anything and everything to bring pleasure to their partner or partners, and even to their viewers.
Aside from the usual niche most porn sites cover, like tit fucking, blowjobs, hand jobs, hot and sticky threesomes, steamy double penetrations, this gem of a site likes to put a huge spotlight on anal sex. Yes, sometimes, it's all about the ass and these lovely ladies love it to the core. You'll see their asses, gaping and wide, taking in everything that goes in there. The anal sex isn't only hardcore, it's steamy and erotic, and you will want to watch every second of it. When these fresh boppers want something, they usually get it and there is no deterring them. I suggest you hold on tight to your seat, or to whatever you have a grip on, because these ladies will not only rock your world, but your cock as well. The site was launched in late November 2013, under Private Media Group. Despite it not being around for so long, being around for roughly only four years, it has quite the content you'll be surprised of.
Site Content
TightandTeen is an exclusive porn site. It was advertised as exclusive, and yes, the contents are all original and you won't be able to find them anywhere else. A trial membership is available if ever you want to take an early sneak peek of the site itself but you can only watch five scenes all in all, accompanied by their respective photosets. If you want to view more, then you'll have to register as a premium (monthly) member. You'll notice that majority, if not all, of the contents are dated and the site itself is updated per week with a video or two, along with their own galleries. Unfortunately, an update of a weekly basis can resort to none sometimes, but not to worry though, that rarely happens. It's a growing site and I can say that you can expect more goodies to come. Included with your membership, you will have access to 10+ sites that are under the Private Media Group and they are equally hardcore.
Also, if you are a member of Private, you'll be granted enough access to the site itself. The scenes available as of the very moment are around 200+ and the video length may vary from time to time, it all depends. The latest movies, if streamed using the online Flash player, can be played at an astonishing 1280 x 720 pixel resolution. If you opt to download these though, know that the format available for these videos or scenes are all in MP4, they are at a 4500k bit rate, and they are absolutely in glorious HD, at 1920 x 1080p respectively. Know that the given formats are only available for the "latest" scenes uploaded and the older ones may have different specs. In addition, photo galleries or sets are available for each scene and these galleries have 40 photos inside of them, even more sometimes. The photo sets can be downloaded individually or if you want an easier way throughout it all, you have the option of downloading them as zip files. There are 200+ photo sets available and ready for viewing.
Actresses & Video Quality
The girls of this oddly very satisfying site are beautiful and they are sexy and they bring out the best not only in anal fucking, but the rest of the niche as well. These lovely ladies hail from places all over Europe and they speak different languages like English, German, Spanish, French, or Dutch. The ladies vary in sizes and in beauty as well, but all are equally appetizing and gorgeous. The females are a mix of white and ethnic models and most of them are professional looking. Make no mistake about it though, these ladies are all up for sex and they offer a solid take on every hardcore action possible.
In Few Words
As much as I looked high and low for obvious negativity about the site, there's little to none to pick on. The site itself is neatly put and organized and it was pretty easy to find my way around. Mind you guys, the site is large but you will never get lost. The girls are absolutely stunning and that makes it hard for us guys to pick a favorite. No problem with that though, you can always pick everyone! The content is in very good quality and they already have enough scenes to get you started, all the while waiting for the not-so-scarce updates. You also get access to other hardcore sites that fall under the same management. So yeah, of course I'd give this site my honest two thumbs up. You guys should go check it out.
Visit TightAndTeen >>
---
Need to clear further doubts?
Have a look at some other TIGHTANDTEEN tips on some other great porn review sites!
---