TRICKYMASSEUR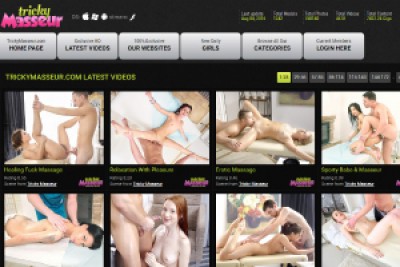 Overview
The TrickyMasseur is an premium adult video portal, which grants you a collection of hardcore sex videos, which cover different hardcore niches, and also a popular fantasy: massage-room sex. In these videos every massage is erotic, and every session has a happy ending, with a girl covered with cum or creampied. If you like European porn (Russian to be precise), and you don't mind if the girls are usually under 26, then you will enjoy these scenes totally. We are glad to review Tricky Masseur, because the network behind is pretty awesome, we are going to get back to it soon, but first let us take you through the intro promises and the background. So, the site launched in 2010, and seems to have been updated regularly since then. It has been six years, and the usual update frequency is a weekly-biweekly one, so it's not a big surprise that about 220 hardcore videos are available. Though sometimes they add a scene two weeks after the previous, the good news is that the site keeps on growing, and the quality of the videos has increased a lot since the first flicks. As far as we could tell, the collection of the TrickyMasseur consists of exclusive porn videos, so you can't enjoy these hot flicks anywhere else.
Now, the site has more in store for you. This is a portal of the TeenMegaWorld network, one of the biggest source for Russian porn videos of girls in the 20-27 years old category. If you open the site, you can see the actual statistics on the top: it tells you that you gain access to not just the 220+ videos of the TrickyMasseur, but also to a collection of 4354 porn videos. It's quite a lot. The videos are published through 30-34 different porn sites, some have their own catching niche, while others are just simply there to make people interested. It doesn't matter which site you choose to join from, you get to the network hub either way, and you get a full network access too. The movies are coming in regularly throughout the network, they are all exclusive, and they cover vanilla hardcore and heavy hardcore porn niches too. During last year, the TeenMegaWorld joined the top-notch networks, by starting to produce 4K videos for the members' satisfaction.
Site Content
The tour of the TrickyMasseur will certainly satisfy all your needs. You can see the site's videos listed, and you also have the chance to peek into the collection the site has in store for you: the network-wide statistics are located on the top of the page, and it grants you just the insight you need. But the most important feature of the free tour at the TrickyMasseur is the chance to watch some sexy trailers. These are not long, most of them are under 40 seconds, but they feature moments of the beginning, the act, and the end, so you can get the full picture.
We haven't mentioned the tour page's design, because you shouldn't get attached to it too much: after you log in, you will get to the network-wide members' area, where you can find everything you need to navigate this vast collection. The members' area of the TeenMegaWorld websites is the same, and there is only a logo that tells you which site's collection you are actually browsing. In the members' zone, you will see search field, where you can enter the models' name, or a niche and see what it drops. There are several ways to list the girls, but it looks like actual niche-filters are not available, though the content is tagged. It's also really easy to switch the site you are actually browsing.
Actresses & Video Quality
Every cutie you can watch in these videos is a professional porn star from Europe, usually originating from Russia. They are tight, natural girls, and they are the kind who can simply stage as they are under 20. Fine ass, smooth skin and perky tits are their main benefactors, but their usually quite cute face also makes us hard on horny for them. Some of them have done more scenes, while others are just starting to set foot in this business. But, as you can see on them, they are not just hot, but they know how to handle a cock. These videos usually take place in the same room, and so the lighting and the setup is always fine.
Now, there isn't much talking in these videos, and it seems that most girls don't speak English, so even they say something it's in Russian. But that's not a big issue. In case you enjoy watching girls getting their fine body covered with massage oil, and get some caressing then you will love these videos. Now, one thing is certain, these videos don't focus on the massage, it's just a secondary element, and you know that it's porn, since the girl usually go in naked. But the sex is exciting: lots of anal sex, and varied positions are featured.
In Few Words
The TrikcyMasseur will certainly make you cum hard, and if you are someone who get turned on by massage-like things and hard sex, then this site is going to be a favorite of you. When you open this, and see what you are dealing with, you will come to the same conclusion: it's a really hot, and very sexy collection. We would recommend it even if it wasn't part of one of the biggest European-porn networks of the Internet.
Visit Tricky Masseur >>
---
Need to clear further doubts?
Have a look at some other TRICKY MASSEUR tips on some other great porn review sites!
---