TRUEAMATEURMODELS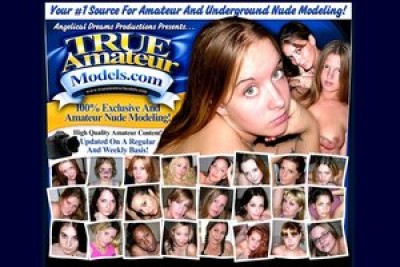 Overview
The TrueAmateurModels is a site that is guaranteed to blow your mind: you will find here hot photos and videos of real amateur cuties, picked up at various public places and convinced to do either some sexy photos, or some softer porn videos. The main niche of the site is nude photography, or as they call it: "underground modeling", and the site was a photos-only site back then, the videos are newer additions, and this also means that you will find here much more photos than scenes. This portal launched ten years ago, in 2005, and the guys behind it were hunting for eager and fresh cuties since then.
The updates are regular, at this moment its set on a weekly schedule. On each update occasion one video and two photo galleries are added. All videos you can find here are exclusive, and the picture sets are also one of a kind edition. Right now the site doesn't offer bonus videos, but the opportunity is opened, and there is a menu, where they should put the extras when any becomes available. Until then, you should discover the movies and pictures of the site, because these US citizen cuties are very hot, and if you like to watch real girls doing softcore things, then these videos will satisfy your needs completely.
Site Content
When the tour page loads, you will find yourself in front of a simple, good-looking and well-built site. Though it's not part of any network, you won't find annoying advertisements here; it's possibly a self-sustaining page. In tour-mode, you can watch a few large pictures, and browse the list of the updates. The tour alone is exciting, so if you want to be sure about the site's claims, suit yourself, and finish the tour, there is only one negative thing: there are no trailers or sample videos, but since it's primarily a photography site, they aren't that important. The members' zone has a bit different layout, but you can find everything easily in there.
The site features a models' database, where you can learn some background info on the girls, and find their photos and videos at one place. There is a search engine implemented, that offers some advanced settings, and you can find some categories tags that can help you narrow down the lists, to show only the things that you are interested in. The videos are available in HD quality online, so the quality won't be an issue to worry about. Saving the video may prove to be a good choice for those who like to download things.
The newest movies are available in HD, but the older ones also offer a good standard quality, and they give a very good playback. Both the stream and download channel is fast and stable, so both viewing options are satisfying. The largest collection of the site is of the photos: the number outshines the quantity of the videos. Right now, you can watch 159000+ pictures. All of them are sharp, high-resolution photos, which you can browse online, and save one by one. You can select from three quality settings before you start looking through the gallery, and there is also a slideshow option, in which you can set the time between the slides.
Actresses & Video Quality
The models of the TrueAmateurModels are true amateur models indeed. The cute American girls are horny and they seem so real, just as they are. I don't know where this Ray guy gets the girls, but it looks as he simply talks with every girl he meets, and after about half an hour they are going to his studio or to her place to shoot some nude pictures.
There are mostly Caucasians here, but a good number of Asian, Latina and Ebony girls are appearing on the site. The most tempting thing about these girls is that they are real chicks, with natural body… and maybe the best thing is that they are not perfect. The site offers a large variety of models, and though the majority is either skinny or normal, Ray does not say no to a BBW if she says yes to shoot some pictures, or even a video, so if you are into big beautiful women, you can find some here too. The videos could be sorted into four categories: modeling, handjobs, masturbating and hardcore. The modeling movies are made during, or instead of photo shooting, and they are really exciting. You will certainly enjoy watching these girls getting naked, posing and spreading their legs thus show everything they have.
The handjobs are regular things on this site; most nude modeling is followed by some "manual sex", and you will see that the handjobs often turn into blowjobs, ending with a shot into her mouth or all over her body. Some girls are so horny, that they start teasing themselves, and if there is a dildo there, then they use it until they cum. The hardcore videos are not that hard, but they are exciting and real, there are no overplayed acts, just real moans of pleasure, and sometimes some heavy elements are included like anal sex and creampies.
In Few Words
The TrueAmateurModels is a surprisingly good site, and what it offers is very entertaining and exciting. This guy is very good in getting the best out of these amateurs, and after a few minutes they become relaxed and even cheerful, so you can find here some cute smiles that might melt your heart and cause an erection that must be eased with some shaking.
Visit True Amateur Models >>